Bittu, Ayali, Phoolka share dais — in combative mood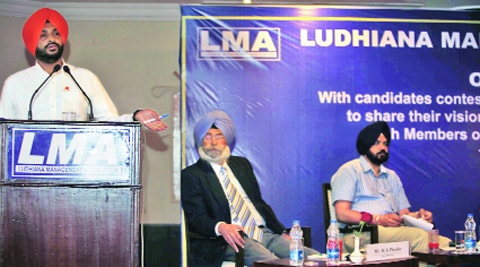 At the interaction organised by the Ludhiana Management Association on Thursday. (Photo: Gurmeet Singh)
TO TEST the capability of four main candidates from Ludhiana constituency for the Lok Sabha election, the Ludhiana Management Association on Thursday evening organised an open discussion in which AAP candidate H S Phoolka, Congress candidate Ravneet Singh Bittu and SAD candidate Manpreet Singh Ayali shared the dais.
However, Independent candidate Simarjit Singh Bains did not turn up. The event saw the candidates answering questions by the audience. They also indirectly targeted one another as organisers had made it clear that criticism and heated arguments were not allowed.
The highlight was Manpreet Singh Ayali's views on women's safety. He said, "Girls should prefer not going out in the dark. We cannot provide police security everywhere as it is impractical. Girls need to be cautious too."
His statement not only got a hoot from the women sitting in the audience but AAP candidate H S Phoolka and Congress candidate Ravneet Singh Bittu also criticised it. Each candidate was given time of 7-10 minutes to speak.
'HOW CAN INDUSTRY FLOURISH IN STATE?'
Congress candidate Bittu scored some brownie points as he targeted the ruling Shiromani Akali Dal for 'demanding share in every industry in state'. Taunting the Akalis, he said, "We need to create an environment for industries to flourish. We cannot demand share from each industry."
Invoking the legacy of his grandfather Beant Singh, former Punjab CM, he said that "even after his sacrifice to flush out terrorism within six months, we failed to bring state on right track". He also cited law and order and unemployment as major issues in Punjab.
Bittu said that "villagers should socially boycott the drug peddlers". It was again an indirect taunt to Akalis as he said, "We all know who is promoting drugs in state. Villagers should socially boycott these people."
He reiterated his stand on bringing PGI hospital to Ludhiana. Citing an example of Delhi, he said that "like Sheila Dixit controlled pollution there, he will do it for Ludhiana as master plan of Rs 10,000 crore will be made to increase greenery and introduce CNG buses and autos".
Bittu blamed the Akalis for the non-functional airport. "We need to acquire 45 acres of land for expanding airport but Akalis are sacrificing it to make Bathinda airport. If I come to power, Ludhiana will get an airport in a year," he claimed. He also mentioned the Sarabha Nagar firing incident involving the Youth Akali Dal leaders.
Asked about dynasty politics in his party, he said, "Every individual has the right to contest polls. No one can be stopped, be it Rahul Gandhi or anyone."
"To all women out here, you are running the world, and no one can stop you from going anywhere," he said amid loud applause.
AYALI GETS FLAK
FOR POWER CUTS
SAD candidate Manpreet Singh Ayali said that if he came to power, "MPLAD funds will …continued »