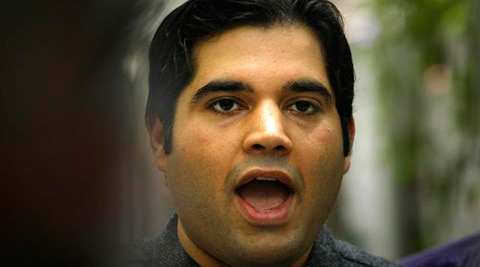 BJP leader Varun Gandhi
THE support for BJP leader Varun Gandhi to project him as the party's chief ministerial candidate for 2017 UP Assembly elections has moved from Facebook to his constituency in Sultanpur where the Varun Gandhi Youth Brigade is gaining ground. Or so it claims.
While the youths say the organisation (VGYB) was formed during the Lok Sabha elections, the young brigade has only just started campaigning actively in several districts, projecting BJP's national general secretary and Sultanpur MP as the next chief minister of UP.
An organisation member, Sandeep Kumar Mishra, who calls himself the Sultanpur district president of VGYB, said: "I founded the organisation in Sultanpur during Lok Sabha elections to garner support for Varunji. Now our organisation is seeking support in projecting Varun as BJP's CM candidate in UP. He is a firebrand leader and the party's youth face."
Not surprisingly then that Varun's mother (and Women and Child Development Minister) Maneka Gandhi put to use this observation on Sunday in Takia village when she, while seeking support for a BJP-led government in the state, claimed "it would have been even better if (that) government was run by Varun".
While Varun himself has denied having any connection with the organisation, a claim Mishra says is true, saying he is nowhere associated with it, the group is reportedly running mass contact programme seeking support for the leader as the "CM of UP".
The organisation has even started a membership drive from July 15, which will run for a month, to include new members. "Target is to induct at least 15,000 new members in the organisation in Pilibhit, 7,000 in Sultanpur and at least 1,500 each in other districts." Pilibhit is the Lok Sabha constituency of Maneka Gandhi. Varun, too, was elected to Lok Sabha from the constituency in 2009.
Another organisation member in Lucknow, Satyadev Pratap Singh said the main task of the brigade was to bring in more and more youths to join the organisation who would volunteer for the BJP and Varun, and claims that several have responded. "Youths are joining the organisation because they like him (Varun)."
Among the many districts (20 in total) where the organisation has set up units include Mainpuri, Allahabad, Lakhimpur, Etawah, Kanpur Nagar, Kanpur Dehat, Kannauj, Pilibhit and Lucknow.
Significantly, BJP national president Amit Shah, Union home minister Rajnath Singh's son Pankaj, leader Yogi Adityanath, Kalyan Singh and Rajveer Singh are other BJP members whose countless supporters are separately pushing their case for UP's next CM on Facebook. Varun, however, leads the contenders even there with six active accounts pushing for him.
The BJP top brass, however, is yet to take a call on who would be the party's chief ministerial candidate for the 2017 state elections. Even Maneka's opinions were set aside by BJP state president Laxmikant Bajpai as "the minister's personal view", saying "it's too early to comment". Varun's Youth Brigade doesn't, however, quite seem to be in agreement.
For all the latest Lucknow News, download Indian Express App