TMC pits journalist against Sonia Gandhi in Rae Bareli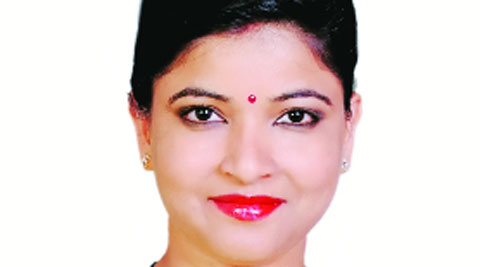 Anju Singh, who has reportedly been in the media industry for nine years, hails from Rae Bareli and has married an engineer last month.
Trinamool  Congress will field Anju Singh, the 31-year-old news anchor of a Hindi news channel (India News) against Sonia Gandhi in Rae Bareli.
Party sources said Singh was chosen as the party's Rae Bareli candidate by Mamata Banerjee, dropping the candidature of Umesh Kumar Mishra.
Singh, who has reportedly been in the media industry for nine years, hails from Rae Bareli and has married an engineer last month.
Fielding her from the constituency was a natural choice when she decided to contest elections, Singh told The Sunday Express.
"I know the problems and issues of Rae Bareli as I was born here," she said, adding her focus will be on development and not caste equations. Her father, Rajendra Singh, is a Delhi-based businessman and a social activist.
"Rae Bareli is a so-called VIP constituency with Sonia Gandhi's family being the elected representative of the constituency. But we have not seen any development here as even basic amenities such as roads and water supply is missing. Which is why the Congress has lost all the Assembly seats from Rae Bareli in the state elections."
She maintains that she wanted to enter politics and the TMC has given her the opportunity "at the right time." Fighting elections for the first time, she is confident of her victory despite it being a difficult seat.
"Everyone is telling me that I am fighting against Sonia Gandhi, but I am fighting the elections with the intention to win and not to defeat someone," she said, adding she will kick-off  her election campaign from the constituency, after getting the final nod from the party high-command.
TMC's choice of a journalist as a candidate in UP is not limited to Singh alone. From Sitapur, the party has selected Jagdish Narayan Shukla, a veteran journalist and PIL activist as its candidate. Shukla is a known an anti-graft crusader with his PILs on corruption in the implementation of Mahatma Gandhi National Rural Employment Guarantee Act and National Rural Health Mission amongst others.
"My first choice was Lucknow, but since I belong to Sitapur, I thought it more appropriate to choose my hometown as my constituency. There is a lot to be done in Sitapur, which is lacking in development and grappling with poverty," said Shukla, who has already fought elections from Sitapur assembly constituency in 1996 from Congress, but lost by over 30,000 votes to SPs Radhe Shyam Jaiswal. Shukla also had a stint with Samajwadi Party in 1993 for two years.
As a scribe, Shukla established a Lucknow eveninger Nishpaksha Pratidin in 1982 and remains its chief editor till date. For the coming elections, he had tried approaching Aam Aadmi Party, but "the party has lost its way because …continued »