Lucknow |
Updated: February 19, 2014 8:32:15 pm
Uttar Pradesh Assembly session on Wednesday began on a stormy note as legislators raised anti-government slogans and two of them took off their shirts protesting over various issues.
The bedlam started as soon as Governor B L Joshi began his address to the joint sitting of the two houses of the state legislature at 11 am. The session has been called to pass an interim budget for 2014-15.
The BSP members climbed on their benches displaying banner and placards, and raised issues from law and order to  farmers plight, besides demanding dismissal of the government.
While, two Rashtriya Lok Dal (RLD) legislators Veerpal and Sudesh Sharma took out their 'kurtas' in protest against the SP government for allegedly not paying the arrears of cane growers of western Uttar Pradesh.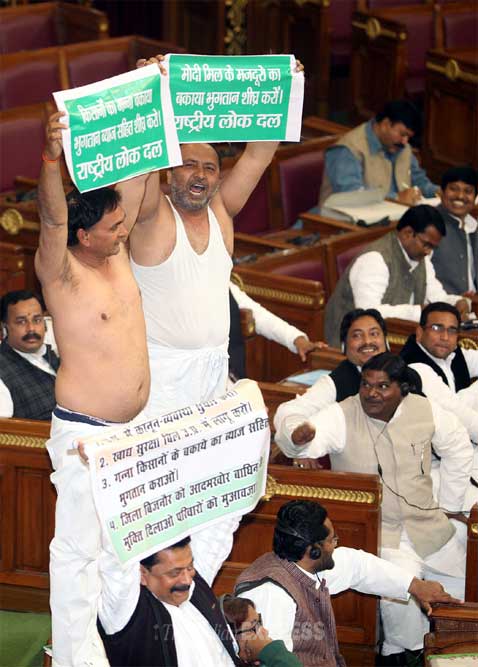 They termed the state government as 'anti-farmers'.
From the government side, Parliamentary Affairs Minister Mohammad Azam Khan counter-attacked at the same time and said they (BSP MLAs) were shameless people, who have no right as they have looted the people of the state in previous (BSP) regime.
The Governor's address could not be heard amid the din and lasted for barely three to four minutes after which he left. Later, the house was adjourned till 12.30 pm.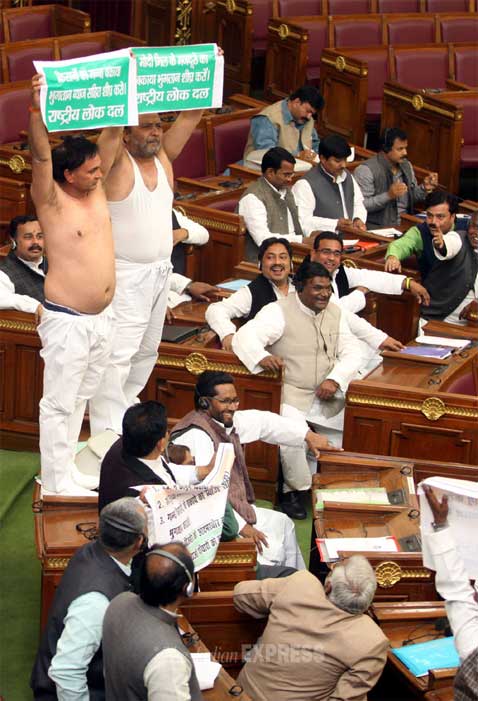 As announced, BJP members boycotted the joint session, stating it was an account of the activities and achievements of the government and the present regime has completely failed on all fronts.
Later, when the house met again, Speaker Mata Prasad Pandey tried to read the Governor's address but leader of Opposition Swami Prasad Maurya (BSP) stood stating as the Governor could not read the address, there was no point in taking up it now.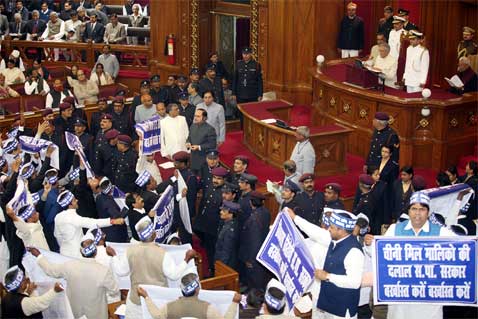 He also took pot shot on Azam Khan himself disrupting Governor's speech. Mentioning incident of RLD members becoming semi-nude, BJP legislative party leader Hukum Singh said that though he was not present at that time but the incident was unfortunate and
showed pain of members.
Amidst slogan shouting from opposition parties, Speaker adjourned the house for the day.
For all the latest Lucknow News, download Indian Express App