Lucknow |
Updated: February 6, 2014 2:31:52 pm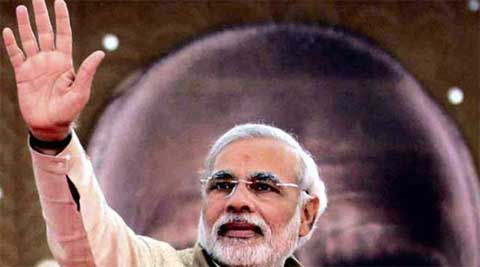 BJP's PM candidate Narendra Modi's rally in Meerut Sunday aims to bring maximum crowd from riot-hit Shamli and Muzaffarnagar districts, with the party's local units reportedly being given targets to arrange 45,000 and 40,000 people respectively.
The party is expecting strong mobilisation of Jat voters in its favour after riots in Muzaffarnagar and Shamli. The BJP is already invoking Chaudhary Charan Singh and farmer leader Mahendra Singh Tikait to attract Jat voters.
Sources said more than 300 buses and around 200 other vehicles have been booked by local leaders in Shamli to ferry the crowd to rally venue. In Shamli, as per BJP's statistics, there are 1.25 lakh Jats, 2 lakh Kashyaps and 1.25 lakh Gurjars, who are dominant after Muslims.
In Muzaffarnagar, the party unit has engaged 500 buses to ferry the crowd, which include SC, Jats, Thakurs, Pals, Saini, Kashyaps and Prajapatis. The party's minority wing has booked eight buses to ferry Muslims to the rally ground.
There are around 1.60 lakh Jats and 1.10 lakh Thakurs in Muzaffarnagar, which is dominated by Muslims — around 4 lakh in number.
The party has also directed local unit to ensure participation of at least 50 people from each village in the rally. BJP district president Satyapal Pal said door-to-door campaign is being conducted in riot-affected Fugana and Budhana to mobilise people.
Among other districts, local units have assured participation of 30,000 people from Bijnor, 18,000 from Moradabad rural, 5,000 from Moradabad city, 10,000 from Rampur, 25,000 from Ghaziabad rural and 10,000 from Ghaziabad city, 30,000 from Hapur, 22,000 from Gautam Budh Nagar and 10,000 from Sambhal. Baghpat — Lok Sabha constituency of RLD president Ajit Singh — has been given a target of 35,000.
"A large number of people will attend the rally from all districts including Muzaffarnagar, Shamli and Bulandshahr," BJP state general secretary and rally in-charge Swatantra Dev Singh said.
For all the latest Lucknow News, download Indian Express App