In Etawah, SP candidate holds ears to seek forgiveness and votes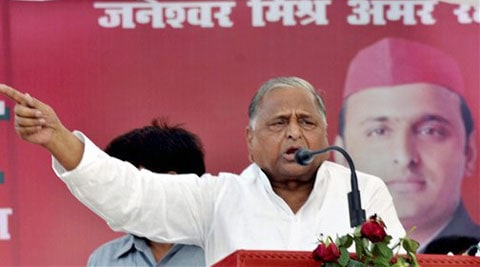 If Etawah's pride is lost, everything is lost: Mulayam (PTI)
At Etawah, the home district of Samajwadi Party president Mulayam Singh Yadav, SP candidate Prem Das Katheria is holding his ears to seek forgiveness, and votes.
Katheria, the sitting MP from Etawah, is having to plead for votes during public meetings in the presence of Mulayam and his younger brother Shivpal Singh Yadav. "Jo bhi galti ho, jo bhi naraaz ho, hath jod kar nivedan karta hoon, meri galti ko maaf kar dena, ham ghar ke hain. Ye Etawah ka maamla hai, Netaji ne sabko diya hai, iska maan rakh lena. (Whatever the fault, please forgive me. It is an issue of Etawah and Netaji has given to everyone, please keep its pride)," Katheria said during a meeting Saturday.
With no reaction from the crowd, Mulayam got up and said, "Isliye jita dena, Etawah ka samman gaya toh sab gaya. Hamara maamla hai, meri janambhoomi hai. (Ensure his victory because if Etawah's pride is lost, everything is lost. This is my issue, my birthplace)."
At another meeting, Katheria said people can beat him up for his mistakes, but they must ensure his victory.
In Etawah, Katheria is usually greeted with a frown. Locals feel he did not do enough work, and acted brashly because he had Mulayam's backing. "People are not angry with him but annoyed with his work. But we all vote for Netaji (Mulayam), the candidate does not matter," Anuj Mishra, who owns a furniture showroom, said. "For traders, Netaji has done a lot. And the Lion Safari — just see how it will be packaged along with the Taj Mahal."
Disgruntlement with Katheria has provided the BJP, which won the seat in 1998, a ray of hope. "It reflects people's anger. They cannot target a big politician so they vent their anger towards Katheria," a BJP functionary stated. Incidentally, the party's own candidate, Ashok Dohrey, has also been seeking forgiveness. "If I have done any wrong, I touch your feet, please forgive me and ensure Modiji's victory," Dohre said at Modi's rally in Bharthana.
Dohre, who was earlier in the BSP and a minister, had allegedly slapped the prevention of atrocities on SC ST Act on upper castes. "It is true but we have managed to break the jinx… Just feel the Modi wave," Lallu Tiwari, district president of BJP's farmers cell, said.
But for over one lakh Muslims in Etawah, there seems to be no alternative to the SP. Imam Syed Ahmed Bukhari tried to mobilise them against Mulayam by holding a rally, but failed to garner support. "Muslims are behind Mulayam. All our colonies are developed. Mulayam took care of our families, we are emotionally attached to his," Furqan Ahmed, former chairman of Etawah Nagar Palika, said. The Yadavs are regulars at functions organised by the Muslims and many youth from the community flaunt their personal relations with Akhilesh …continued »