Exit polls pave way for Akhilesh to show doors to SP 'senior baggage'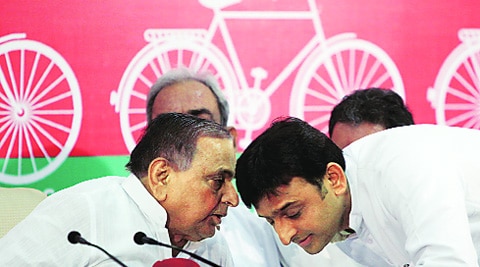 Akhilesh is likely to remove 100 SP leaders who had been bestowed with the minister of state status, often following recommendation by Mulayam's loyalists
With the exit polls predicting a poor performance by Samajwadi Party (SP) in Lok Sabha elections, the ruling party in Uttar Pradesh is gearing up for major overhaul after the results are declared on May 16.
The churning in the party will see state SP chief and Chief Minister Akhilesh Yadav asserting his authority by giving important party posts to his loyalists and youth leaders even as many senior leaders close to his father and party supremo Mulayam Singh Yadav will lose theirs.
"For two years, the youths had been neglected by the senior leaders. For Akhilesh, they came out on roads (during his road shows) and are now expected to get important posts in the party set up after May 16. SP will have a more authoritative stamp of Akhilesh," an SP functionary said, requesting not to be named in print.
The party's youth leaders, mostly remained aloof during the campaigning coming out only twice in their full strength during road shows by Akhilesh in Lucknow and Varanasi.
Though SP has categorically rejected the exit polls results —- They predicted 13 to 17 seats for SP while giving the BJP a mammoth's share of the 80 Lok Sabha constituencies in state —- a deserted party office at Vikramaditya Marg summed up the situation on Wednesday.
None of the leaders turned up at party office while Mulayam remained in Delhi.
As per the reports, SP plans to dissolve its state unit, which will be reconstituted after several rounds of meetings. The move is also aimed at shedding nearly 40 state secretaries and members who were appointed during the election process.
By dissolving the whole state executive unit, many of the leaders who were appointed keeping in mind the local political equations will be dropped.
Another important move which Akhilesh is likely to take is removing all the SP leaders who had been bestowed with the minister of state status. There are nearly 100 such SP leaders who had been appointed in various government bodies as minister of state and enjoy the facilities of security and official vehicle. Most of them proved to be an extra baggage during the Lok Sabha polls.
Most of them had been appointed on the recommendations of senior SP leaders, clerics and old associates of Mulayam. None of them could deliver during the elections except occupying the stage during rallies of Mulayam and Akhilesh.
Serious deliberations are also on with Mulayam to take a final call about taking action against some ministers in the Akhilesh government. Three ministers —  Anand Singh, Manoj Paras and Narendra Yadav — were sacked during elections after they openly opposed SP candidates.
Earlier, Mulayam had warned the ministers that they will lose their …continued »