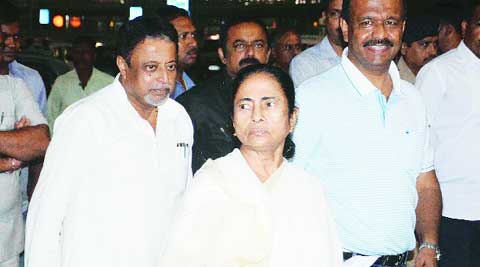 Two days after Trinamool Congress chief Mamata Banerjee hinted at an alliance against BJP,  the CPI-M Sunday said the only place where the Left Front can meet the ruling party in West Bengal is "the political battlefield".
"An alliance with the Trinamool Congress is out of question. From the very top to the bottom, the party is infested with anti-social and violent elements. We will meet Trinamool only on the streets of political battle," former chief minister Buddhadeb Bhattacharjee said at a party programme here.
Bhattacharjee, a CPI-M politburo member, also criticised the Mamata government as an overall failure. "Since they came to power three years ago, Bengal has gone back by 10 years in industrialisation," he said, claiming that electricity consumption was going down every month, which was an indicator of industrial health. He further claimed that rice and potato prices have doubled since 2011 in the state.
Left Front chairman Biman Bose echoed Bhattacharjee in asserting "we will meet Trinamool only on the field of (political) battle". He said that it did not matter what the Trinamool leadership said. "Trinamool practises soft communalism. It has no history of fighting communal forces against which the Left has always stood. Its policies are anti-people and it never kept its promises it made to people before coming to power. An alliance with such a party is not possible," Bose said.
He added that during a recent meeting with the CM, Mamata had assured that attacks on Left workers would stop and those who had been forced to flee their homes in the aftermath of 2011 loss in Assembly polls would be allowed to return to their residences. "None of the assurances had been lived up to," Bose said.
For all the latest Kolkata News, download Indian Express App