Cong aims to retain 2009 tally: Adhir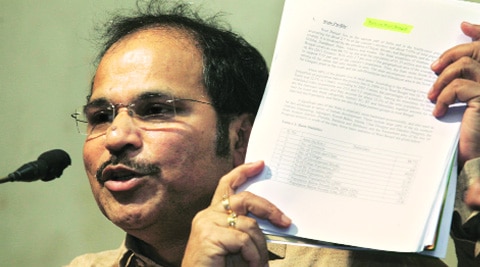 Adhir addresses media in Kolkata, Monday. (Partha Paul)
The West Bengal Congress Monday said it was not targeting any unrealistic figures and was instead focussed on retaining the six seats it had won in 2009 Lok Sabha polls in the state.
"We have a realistic approach. Our main objective is to hold on to our existing seats and then to increase the numbers. We are focusing on north Bengal and in some parts of south Bengal and a seat in Kolkata," state Congress chief and Minister of State for Railways, Adhir Ranjan Chowdhury said.
Speaking at a Meet the Press programme organised by the Kolkata Press Club, Chowdhury admitted that the Congress had a "delayed take-off" as an opposition party. "We were losing relevance in Bengal politics, but now we have been able to overcome an atmosphere of demoralisation that had been created about the Congress," he said.
Asked about Trinamool Congress president and Ministyer Mamata Banerjee's outburst against the Election Commission at public rallies and attack on EC officials by her party workers, he said, "She is unsure about her strength this time and is worried. She sees a conspiracy in everything. It seems she has some designs which are being hampered by the Commission and that is why she has launched a vitriolic attack on it."
On possibilities that the officials transferred by the EC may be reinstated to their positions after the election, he said, "It is a veiled threat by the chief minister to those who think they can exercise their franchise in a free and fair manner," he said.
He claimed that there was terror and violence in remote areas of the state and that this was being perpetrated by the ruling TMC workers.
On reports that the All India Trinamool Congress general secretary Mukul Roy was in touch with him because the former's son was not given a Lok Sabha MP ticket, he said, "I have heard that Roy's candidates were given the short shrift. If Mamata's nephew Abhisek Banerjee can be made a candidate, why not Roy's son, who is already an MLA and has some experience in Parliamentary politics?"
'My status will go down if charge lower than murder slapped'
Kolkata: Bengal Congress chief Adhir Ranjan Chowdhury Monday said, it had been a practice with the ruling parties in the state to slap false cases on him. The three-time MP and Minister of State for Railway sarcastically said that his status would go down if any charge lower than that of murder was slapped on him.
"Don't talk of any charge lower than that of murder against me. If you do so then my status would go down," Chowdhury said.
He said that Congress vice-president Rahul Gandhi had once asked him as to why so many criminal cases were pending against him. "I told him that it is the practise of whichever party is in power in Bengal to slap false cases …continued »