UNION SHIPPING, Road Transport and Highways Minister Nitin Gadkari on Sunday inaugurated the second bridge on the Brahmaputra at Saraighat here and announced a number of new road projects for Assam, which included several bridges on the river, worth Rs 65,000 crore over the next five years. "There will be no dearth of funds. You will be tired asking for funds, but I will not get tired giving you funds," Gadkari told Chief Minister Sarbananda Sonowal, as he declared 1,243 km of roads in the state as National Highway and announced sanction of Rs 15,000 crore for the purpose.
Costing Rs 475 crore, the 1.49-km second bridge on the Brahmaputra took eight years to complete. The new projects included a 47-km highway from Guwahati to Mangaldoi via Kuruwa with a bridge across the Brahmaputra, and a 27-km highway at Lowarpara in Karimganj district where the supply line to Tripura has remained perennially affected due to bad road condition, especially during the monsoon.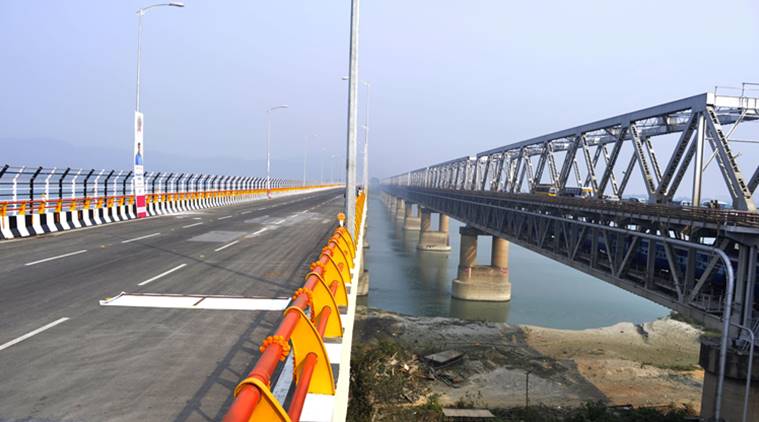 Gadkari also announced releasing Rs 800 crore from the Central Roads Fund for Assam, a 100 per cent grant, apart from saying that the work on DPR for two more bridges on the Brahmaputra were in progress. While one bridge would link Numaligarh on the south to Gohpur on the north, the other would connect Majuli to Jorhat, he said. The Prime Minister would formally inaugurate the 9.14-km Dhola-Sadiya bridge on the Brahmaputra in eastern Assam later this year, he said.
The union minister also said that work on a DPR to construct two highways along both banks of the Brahmaputra was in progress. The two roads, which would also serve as flood protection wall, would be constructed using silt dredged to improve the navigability of the river. The two roads would be axis-control express highways like the Mumbai-Pune highway, he said.
For all the latest Guwahati News, download Indian Express App