With no voter cards, Tibetans have to wait to cast their votes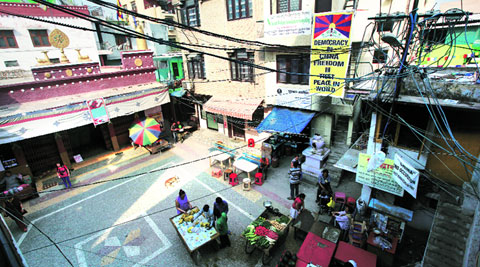 Main square of Majnu ka Tila. (Tashi Tobgyal)
It is after more than 50 years that the Indian government and the Tibetan government-in-exile have eased their stand on the future of over 1.5 lakh Tibetans living in-exile in India, finally giving them Indian citizenship and voting rights. What prevails on ground, however, is some happiness and cheer, a lot of confusion, and a fear of losing their dream of a free homeland.
New Aruna Nagar, popularly known as Majnu ka Tila (MKT), is one of the largest colonies of Tibetan refugees in the country after McLeodganj in Himachal Pradesh.
The narrow winding lanes are choc-a-bloc with restaurants that serve the best Tibetan food in the city, shops that sell ethnic Himalayan ware and guest houses, as the colony is also considered the most important transit point for any Tibetan in the country.
An August 2013 order of the Karnataka High Court clarified that children of Tibetan refugees, born in India between 1950 and 1987 as mentioned in the Citizenship Act, 1955, are to be considered Indian citizens by birth. Pursuant to that, the Election Commission, in an order dated February 7, directed the electoral officers in all states to include children of Tibetan refugees, aged above 18, in the electoral list "because they are citizens of the country".
MKT, incidentally, falls under the Chandni Chowk parliamentary constituency. But, despite the formal notification, and at a time when every radio jingle and every billboard is smeared in the pre-poll fervour, MKT is different. Hoardings and posters of political parties and candidates are completely missing from this colony of about 300 families.
Karten Tsering, pradhan of the Residents' Welfare Association, said none of the Tibetan residents of MKT have received voting cards for the upcoming Lok Sabha elections. "No special camps were held to enrol voters from here, but those who submitted their applications to the nearby election office have all been sent back, with the Delhi Election Office clarifying that they do not have sufficient time to verify the place of birth of the applicants," he said.
The Indian government first offered citizenship and voting rights to Tibetans-in-exile in 1970s. But the offer was turned down by the then Tibetan government-in-exile, Tsering said. He went on to say that the Tibetan youth are happy about the Indian government's decision and the fact that the Central Tibetan Administration (CTA) is not reluctant anymore to give out No Objection Certificates to those who wish to be Indian citizens.
"Apart from surrendering our Registration Certificates (which is our document of the refugee status and needs to be renewed every year) and our Identification Certificates (which is our travel document), we also need NOC from the CTA, which we did not get in the past, but have started getting now," said Sangpo, the 33-year-old president of the Dharamsala Association, the umbrella organisation looking after the 38 guest houses and 15 registered restaurants at MKT.
Sonam …continued »