Voting out Vajpayee a historic blunder, says Harsh Vardhan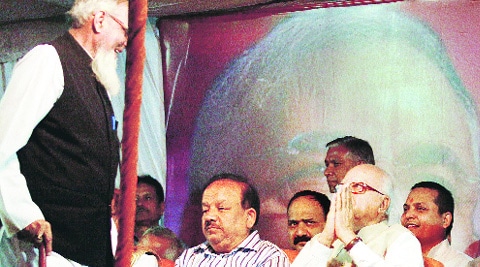 L K Advani (right) and Harsh Vardhan with senior party leader Arif Baig (left) in Chandni Chowk on Friday. (Prem Nath Pandey)
With just three days left for polling in Delhi, Harsh Vardhan is going all out to woo Muslims.
Campaigning extensively in the Muslim dominated Assembly seats, the BJP candidate for Chandni Chowk constituency has involved party leader Arif Baig to help him and speak about the BJP's agenda on development.
Meanwhile, during a press conference on Monday held to highlight the achievements of the Atal Bihari Vajpayee government, Harsh Vardhan claimed that "voting out Vajpayee was a historic blunder".  The Modi wave, he claimed, was a result of people realising the "blunder".
On Sunday, Baig, along with Harsh Vardhan, had released the slogan 'Sabka Saath Sabka Vikas' to capture "the rashtradharm of the BJP's campaign". Earlier, during senior leader L K Advani's rally this week, he had called upon Muslims to "vote for Modi, and prove to the whole world that is watching the Chandni Chowk elections that Muslims want positive change in Old Delhi".
Speaking to a gathering near Delhi Gate during the release of the slogan, Harsh Vardhan said, "We believe that development of all, irrespective of religion, caste or creed, shall be the rashtradharm of the Modi government. The Congress government waves a flag of secularism, but has turned Chandni Chowk into a slum. Help us retain the glory of this old city, and we promise to take care of your development."
Harsh Vardhan spoke about the poor state of the roads, sanitation, poor health conditions of Muslim women… and lack of hospitals and educational facilities in the area.
A key member of  Harsh Vardhan's campaign team said, "Baig is a known face among Muslims in Delhi. Harsh Vardhan also knows him personally. So, he can help us carry Harsh Vardhan's message to those sections which may be hostile. We saved him (Baig) for the last leg of the campaign to ensure that his message remains fresh in the minds of voters."
"Often, in the history of democracies, people realise their mistake in making choice of regimes only when it is too late. The people of India were in such a quandary for the past few years because they blundered in voting out the Atal Bihari Vajpayee-led NDA government in 2004 only after seeing what a miserable state the Sonia Gandhi-controlled UPA-1 and UPA-2 regimes has dragged the nation to," he said.
"The Modi wave now sweeping the country has its roots in the national resolve to revive the era of progress and positivity which abruptly ended when the UPA came to power in 2004. After that it has been only downhill. The people of India will not blunder again," Harsh Vardhan, said.
He hailed Vajpayee as the "greatest prime minister India ever had". "The people of India wish to …continued »