'Unfortunate' that power, water cost will rise again, says Arvind Kejriwal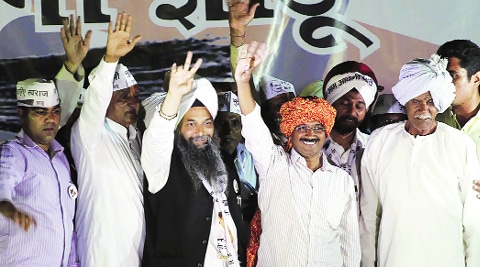 Arvind Kejriwal during a rally in Dwarka. (Express)
With just 10 days to go for Lok Sabha elections in the capital, the Aam Aadmi Party chief Arvind Kejriwal held his first public meeting in Delhi. Issues relating to the Delhi Assembly elections loomed large in his address to AAP supporters in Dwarka on Monday — from the achievements of his 49-day government and the AAP government's resignation to the urgency of re-elections in the capital.
In an effort to strike a chord with various sections, Kejriwal not only spoke about the power and water initiatives of the AAP government, but he also pointed out other measures taken by him — SIT probe into the 1984 riots, rolling back of FDI in retail in Delhi and the Rail Bhawan strike against non-cooperation by Delhi Police.
Regarding the achievements of his government, Kejriwal said, "Electricity bills were reduced by half. Ask people of Madhya Pradesh, Rajasthan and Chhattisgarh if this has happened there? Six-hundred-and-fifty litres of water was provided to the people for free. It is unfortunate that after March 31, the bills will go up again… For five years, the people of Delhi have been demanding an audit of electricity companies. Sheila Dikshit said the case was pending in the Delhi High Court, so she could not do anything on the matter. The BJP said the same thing. Within 10 days of the AAP governance, we ordered an audit of these companies."
Addressing residents of West Delhi Lok Sabha constituency — home to a large number of 1984 riot victims — the former Delhi Chief Minister also brought up the SIT probe ordered by his government in the case. Alleging that neither the state or central governments of BJP or Congress took any action on the issue, Kejriwal said, "Sikhs of Delhi had been demanding an inquiry into the 1984 riots for a long time. In our 49-day-rule, we constituted an SIT to look into the riots."
In support of his arguments, Kejriwal went ahead and pointed to surveys conducted by some media houses on the party's performance in Delhi. "Surveys conducted by some newspapers showed that corruption in Delhi had come down. Police have stopped harassing auto drivers, government hospitals had a regular supply of medicines," he said.
On his party's resignation from the government in Delhi, Kejriwal said before forming the government, the party had written letters to the Congress and BJP and asked for their stand on 18 points, including the passing of the Jan Lokpal Bill.
"The Aam Aadmi Party got 28 seats (in Delhi Assembly polls). We did not get a majority, we did not want to form the government but some people accused us of running away from fulfilling the promises that had been made prior to the elections," he said.
In a justification for resigning from the government, Kejriwal said during the referendum, the "people of Delhi" had said that if …continued »