They came in jeeps, 'lucky e-bike' and the Metro to file their papers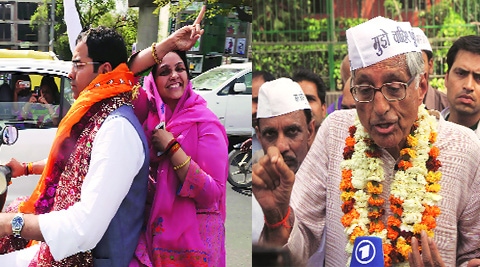 Pravesh Sahib Singh, wife Swati head to file nomination papers; AAP's Rajmohan Gandhi in East Delhi on Friday. (IE)
BJP leaders put up a show of strength as Harsh Vardhan filed his nomination for Chandni Chowk constituency on Friday. He came in an open jeep, flanked by Vijay Goel, who once represented the same constituency, and senior leader Vijender Gupta.
Harsh Vardhan said, "I have the blessings of all my colleagues… and I hope to win the seat. Nothing has been done in terms of infrastructure and improving the living conditions in Chandni Chowk. The sitting MP Kapil Sibal, who has been elected from here twice, has betrayed the mandate."
Commenting on the Muslim population, a significant vote share in Chandni Chowk, Harsh Vardhan said, "Maybe you don't know Muslims like I do. I spent the first 15 years of my life here, my earliest friends and memories are from here." The two BJP leaders accompanied Harsh Vardhan to the DC's office, as supporters wearing Narendra Modi caps chanted a new slogan, "Har har Na-Modi".
Barely half an hour later, AAP candidate Ashutosh arrived with his supporters, including former health minister Satyendra Jain, to file his papers. The group boarded the Metro from Pitampura and more supporters joined him from "various stations" till they exited at Kashmere Gate. On the competition he faced, Ashutosh said, "The BJP appears to be confused about who to field as an MLA, MP or a chief ministerial candidate. The leaders who are contesting against me may have been strong once, but given the situation today, I am confident of winning the seat. We want to give the people corruption-free governance."
On the way out, Ashutosh and most of his supporters ditched the Metro for waiting cars. Pravesh Sahib Singh, BJP candidate from West Delhi, came on his "lucky" e-bike to file his nomination in Janakpuri. The 37-year-old came with his wife Swati Singh, riding pillion.
A party worker said, "Parveshji considers his e-bike lucky and had used it during the Assembly elections when he contested from Mehrauli constituency. He won from there— a constituency where the BJP had never won. Which is why he decided to use it today."
Mahabal Mishra from Congress also filed his nomination from West Delhi along with AAP candidate Jarnail Singh. Congress leader Ajay Maken and BJP spokesperson Meenakshi Lekhi filed their nomination papers from the high-profile New Delhi constituency. Maken was accompanied by his mother, wife, two daughters, son and some supporters.
BJP's Meenakshi Lekhi reached Jamnagar House 45 minutes later in an open jeep. She had senior BJP leader V K Malhotra by her side and some supporters carrying party flags and raising slogans. Her husband Aman Lekhi and son Pranay Lekhi, who is handling her social media campaign, also came with her. Lekhi said, "I have grown up in the New Delhi area and have personal and social relations with people for years. That will work in my favour. I don't consider …continued »