Written by
Debesh Banerjee
| New Delhi |
Updated: September 1, 2014 1:57:26 pm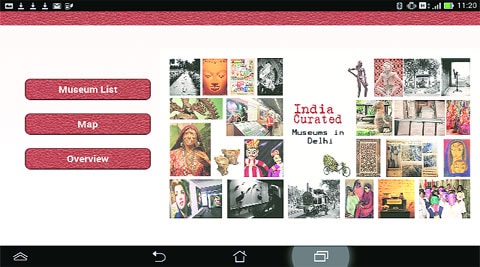 Nestled in the Rajiv Gandhi Handicraft Bhawan in Connaught Place, the Gargoti Museum is not on the usual tourist itinerary. It is home to priceless gems and rare minerals, including the fossil of a dinosaur egg and a meteor fragment. This trivia comes from a new mobile application called Museums in Delhi, which documents rare museums in the city. "This was born out of personal frustration. I have a three-year old daughter and I take her to museums. There is hardly any information about what different museums feature and what they have," says Vaibhav Chauhan, an art and heritage specialist, who has developed the mobile application for Android-based phones.
The app, which launched last month, currently lists 44 museums in Delhi under various categories including Archaeology; Arts and Crafts; History; Personalia (such as National Gandhi Museum, Ghalib Museum and Library); Science; and Transport. The app gives details on opening and closing timings; entrances fees; special attractions; parking; disability access and location. There is also a "Museum map", which plots out all museums across Delhi and using GPS on a smart phone chalks out the routes.
Chauhan, 34, who trained to be a chemical engineer, has been working in the field of art, culture and heritage for over seven years. It took him over two-and-a-half months and a team of six to develop this app that synergises heritage and tourism. "There has to be a synergy with heritage and tourism. So after completing an Executive MBA from IIT, I saw the potential in marketing tourism," says Chauhan, who works for an online art and culture encyclopedia in Delhi.
The app also informs a user about other museums in the vicinity. "I am using better-known museums as a vehicle for lesser-known museums. Each time a user chooses a particular museum he can also view others nearby," says Chauhan, who has not included the Rashtrapati Bhawan Museum and the Bangla Sahib gallery, as they were not completed by the time the app launched. Also there are no images of museums because of their heavy file size.
Later this year, he plans to include art galleries, cultural centres and cultural programmes. "I also want to promote the concept of 'Friends of Museum'. I will host a competition, where people can download the app and post their selfies against an exhibit on the Facebook page of the application," he says. Though the app is only for Delhi now, Chauhan is looking to develop models for other cities as well.
For all the latest Delhi News, download Indian Express App