Written by
Aranya Shankar
, Aishwarya Airy |
Updated: December 19, 2016 12:24:41 am
The debate on photocopying for education and whether it violates copyright laws, has been brewing since 2012, when some publishers sued Rameshwari Photocopy Service shop at the Delhi School of Economics for making and selling "coursepacks".
Earlier this month, the Delhi High Court sought to put the matter to rest, saying that photocopying of copyrighted material for educational use was allowed under the Indian Copyright law.
Also Read  | Delhi University has its own press, but 'no books are printed here'
The Indian Express spoke to students and teachers to understand why the photocopy business continues to thrive.
Watch what else is in the news
Simple economics
As an MSc student of Physics at Delhi University, Kabir Singh, says he is expected to read several books as part of his research on astronomy and astrophysics. One such book is the three-volume series on Theoretical Astrophysics by T Padmanabhan. A search on the Amazon website shows that the hardcover issue of the third volume alone costs Rs 16,619.
Similarly, the latest edition of Spectrometric Identification of Organic Compounds Paperback — an essential reading for all MSc Chemistry students — costs about Rs 17,000 on an online book store.
Most books prescribed to undergraduate science students cost upwards of Rs 500.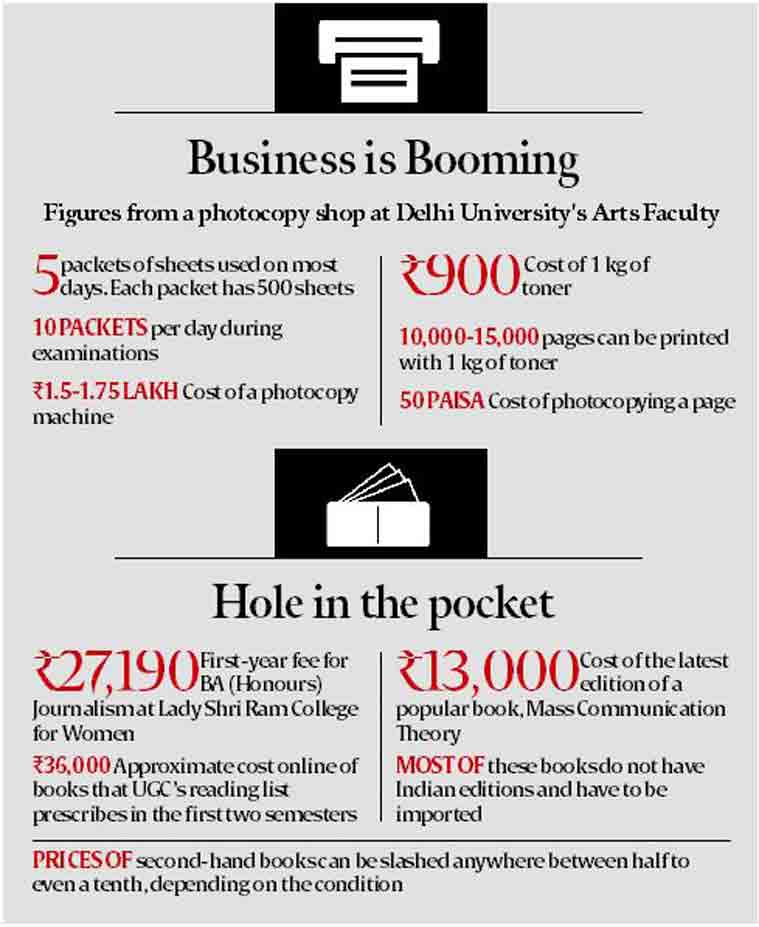 "Science books are generally very expensive, and everyone can't afford them. Photocopying is a cheaper, viable alternative," says Singh. "Plus, the same subject is taught by four teachers, all of who prefer different books. But we don't need the entire books, only certain chapters."
It's not just science books that cost a bomb, though. Across the board, price remains one of the biggest factors why students — many of them living in the capital on shoestring budgets — prefer to photocopy books. "In my first year, I used to buy books, but then I realised I'm wasting my money because I just refer to one chapter," says Ankrish Khanna, a final-year student of Political Science at Hindu College.
Sociology professor Nandini Sundar estimates that if students are told to start purchasing all the books they need for their course — MA in Sociology, for example — they would have to shell out as much as Rs 56,000 per semester, or Rs 2.6 lakh for their entire course.
"There are, on an average, 15-30 readings, of which 20 are books or extracts from books. Our students do four courses a semester and 16 during a two-year MA. If an average book costs Rs 700, we are talking Rs 14,000 per course, or Rs 56,000 per semester… Economics textbooks are even more expensive — they cost around Rs 9,000 on an average," she says.
Sundar is right — even the most basic books for Economics can burn a hole in the pocket. Hardcover versions of Optimization in Economic Theory and Microeconomic Theory, both published by Oxford University Press, for example, cost Rs 37, 827 and Rs 10,900 online, respectively.
Some old problems
Not just books; old notes by seniors are in demand too. "If one of us gets notes from a senior, we get it photocopied and share with friends," says Manya Ahuja, a third-year Economics student at SGTB Khalsa. Many photocopy shops have readymade bundles of notes that once belonged to a "topper" from an earlier batch.
Hindi-medium students, in particular, have to rely on photocopied notes. "Most of our books are in English, so we are mostly dependent on seniors' notes, which are photocopied and passed on through generations," says Om Prakash, a student of MA Political Science at DU.
For a lot of students, ill-equipped libraries pose a problem. Final-year History (Hons) students at Lady Shri Ram College, specialising in American History, say there is just one copy of Give Me Liberty: An American History by Eric Foner (Rs 4,500) in the college library — which they're all supposed to access.
These days, though, photocopying is not the only option — copies of many books can be found online as well. But this helps only those students who have uninterrupted internet access.
In institutes such as IIT, textbooks are made available online and students can access them using the campus network. In residential universities such as JNU, the library is open till late and allows students to access journals and books online.
Pooja, a PhD student of Zoology, says, "During exams, every student is seen searching for books in the library. But someone or the other has already taken them. In the MSc Zoology class, for example, 10-20 copies are available for a certain book, and there are 80 students."
Faculty members say in DU, where over a lakh students are enrolled, having enough books in libraries is a tough ask. Plus, certain  libraries are off limits for undergraduate students. "We don't have as many books as there are students. So students get photocopies of whichever chapters they require. Only postgrad or PhD students studying Science in DU can access the library," Ram Prasad, professional assistant at the Central Science Library, says.
Only way out
In some cases, publications are so old that they only exist in photocopy form, or the subject experiences such rapid shifts that books change every other year. Either way, students say photocopies are the only way out.
"There are certain books only available in photocopied format as far as we know, because they've been published years ago. Take, for example, Magic, Science and Religion and Other Essays by Bronislaw Malinowski. It was published in 1948 and is still part of Sociology readings," says Dharampal Singh, owner of the Rameshwari Photocopy Shop.
This is the case with many subjects like History and Political Science, which recommend books published as early as 1942 (J W Thompson's A History of Historical Writings) and 1954 (Maurice Duverger's Political Parties: Their Origin and Activities in Modern State).
"For subjects like corporate law, we cannot rely on second-hand books because the standards keep changing due to changes in various acts," says Hriday Maini, a final year B Com (Hons) student of Ramjas College.
Not just DU
The photocopy phenomenon exists in JNU and Jamia Millia Islamia, too. Meeran Haider, an MPhil student of West Asian Studies at Jamia, says, "We get about Rs 5,000 as scholarship. If we don't photocopy books or use scans and PDFs, how will we manage?"
Aman Sinha, an MA student of Modern History, says, "In JNU, the library is better stocked, so at least we easily get access to books and readings we need to photocopy. In DU, even finding that is a problem."
Advocate Saikrishna Rajgopal and Pratibha Singh, representing the triad of publishers — Oxford University Press, Cambridge University Press and Taylor & Francis Group — in the case against Rameshwari Photocopy Service for copyright violation refused to comment on the matter.
Associate Professor Niranjan Kumar of the Hindi Department at DU feels publishers should distinguish between photocopying for "enhancement of knowledge" and "commercial use". "The academics and research that we are gaining will help in upward social mobility and some of them will be good researchers, good educationists and will help in creating and innovating further knowledge. The publishers should also think of that," he says.
For all the latest Delhi News, download Indian Express App