Delhi |
Updated: February 14, 2014 12:10:09 pm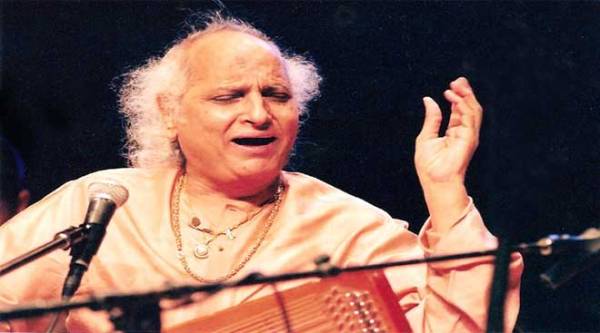 Dharwad's musical heritage has had many believe that the soil and soul of this city in Karnataka breathes music. Not only because it produced legends such as Gangubai Hangal, Kumar Gandharva and Pandit Bhimsen Joshi but also because children from even the most humble backgrounds can tell the difference between their Tilak Kamod and Desh, and almost everyone living there knows Hindustani classical music.
In such an environment lives M Venkatesh Kumar, who travels on a rickety scooter every day to teach at University College of Music and on days when he is not with students, he travels for concerts. Known to be one of the finest exponents of Kirana and Gwalior gharana, Kumar says, "This is all I have done since I was a child. Devotion to music is all that I am capable of." He will conclude the third day of the 67th Shriram Shriram Shankarlal Music Festival presented by Shriram
Bhartiya Kala Kendra, held at Kamani auditorium.
Growing up in a small house where his father was a folk puppetry artiste, Kumar dabbled with the art form, a time when the basic enculturation happened. But soon, he was sent away to learn from the legendary Puttaraj Gawai, a saint and Hindustani musician, who taught a number of artistes, including Joshi, for free.
"Eleven years in the ashram that followed the guru-shishya parampara changed my life. Apart from teaching music, he also taught me how to live my life. The tenets of life play an important role in understanding music and being humble while performing," says Kumar, whose style is deeply rooted in the Kirana gharana known for its complex sargam taans apart from the direct influence of Carnatic classical, the simplicity of the Gwalior gharana and the ornamentation of notes of Patiala gharana. "I was highly influenced by Bade Ghulam Ali Khan sahab. I also believe that if any gharana's musicians have anything interesting, a particular harkat or note, it's only good sense that they imbibe it. One need not be rigid about this," says Kumar.
The festival opened yesterday with performances by Grammy-nominated sitar player Ustad Shujaat Khan followed by a vocal recital by Pandit Ulhas Kashalkar. Today's performances will have Rakesh Chaurasia take the stage for a flute recital followed by classical vocalist duo Rajan and Sajan Mishra. Sarod player Biswajeet Roy Chaudhury will regale the audiences on the second day while Shubhra Guha will present the Agra gharana gayaki in a morning concert on Saturday. The festival will conclude on Sunday with a recital by Pandit Jasraj, the torchbearer of the Mewati gharana, whose bhajans are as revered as the classical ragas.
The festival is on till February 16 at Kamani auditorium, 7 pm onwards. Seating is on first-come, first-served basis.
For all the latest Delhi News, download Indian Express App