The much-awaited Mandi House to Central Secretariat Metro section was thrown open to the public on Thursday by Union Urban Development Minister Venkaiah Naidu.
The Minister flagged off the first train, operated by a woman driver, on this route from Mandi House Station at 9:30 AM and then himself took a ride on the train along with Delhi Metro Rail Corporation Managing Director Mangu Singh and other senior officials and media persons.
The 3.2 km-long underground metro section from Central Secretariat to Mandi House is part of the 9.37 km long Central Secretariat to Kashmere Gate line, which is an extention of the Badarpur corridor (22 km) of Phase two. This section comprising three stations-Central Secretariat, Janpath and Mandi House-was completed in a span of 36 months within the stipulated cost.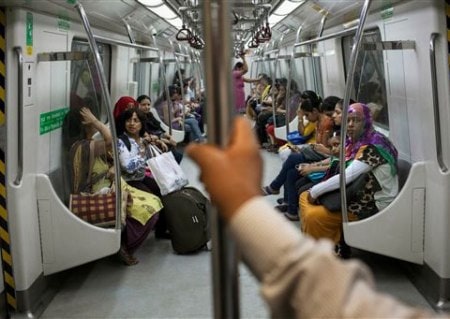 "I feel very proud that DMRC has started the Mandi House to Central Secretariat Metro rail today. I congratulate Delhi Metro authorities, Delhi Governments and all the workers and those who made this work successful.
"This is one of the important steps that DMRC has taken since 2002 for improving lives of the people of the national capital. When the Phase III Delhi Metro, with construction of 140 kms of metro rail is completed, it will significantly change the way we travel in the national capital region," Naidu told reporters at Central Secretariat Metro Station.
The Minister noted that quick and comfortable travel is the essence of urban life. "Metro services combined with other efficient modes of transport will reduce hardship of urban travel. One of the major challenges is management of urbanisation," he said.
This section is an extension of 'Violet line' and is expected to decongest Rajiv Chowk station as commuters of Badarpur-Central Secretariat line bound for Noida, Vaishali and Dwarka will be able to change trains at Mandi House without changing trains twice at Central Secretariat and Rajiv Chowk.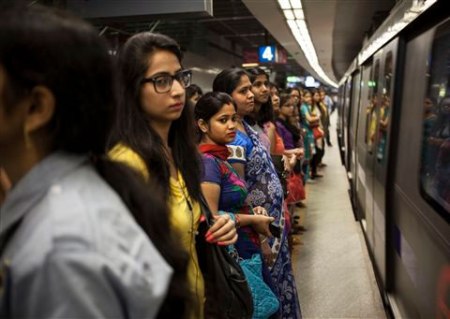 Presently Rajiv Chowk station handles 5 lakh passengers everyday, the minister noted. The ridership in 2016 is expected to be 1,34,879.
Trains on the Mandi House-Central Secretariat section will run at a frequency of 3.25 minutes, he said, adding the new stations Janpath and Mandi House are equipped with token vending machines and add-value cards readers besides other facilities for passengers.
"I have seen that they have depicted historical background of regions at stations so that the new generation can know about the archaeological and historical importance of this region.I commend metro railway for taking this initiative along with Indian Council of Historical Research," he said.
This section will cater to about 70,000 additional commuters everyday. There will be 13 such interchange stations in Phase III and this phase is going to be completed by March 2016. "By that time the major portion of Delhi will be connected with metro rail. This is an ambitious programme and I hope DMRC is able to achieve this," he said.
The Union Minister said he has also written to all his colleagues, suggesting they avail metro facility for travelling in the national capital region.
"I have also written a letter to all my colleagues in the cabinet suggesting they avail the facility of metro rail when they come to Delhi from other destinations. They will help reduce pollution and congestion and make their travel comfortable and save time," Naidu said.
He said, "Whenever I come to Delhi I will travel by Metro rail so that I can get first hand information and in my own way contribute to decongesition and reducing pollution."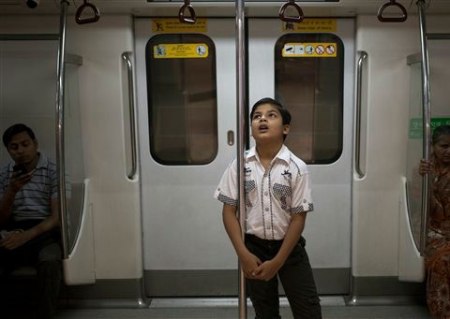 On increasing metro travel fares, which have been pending for a long time now, the Urban Development Minister said, "I have told DMRC to study project fares and then see whether some revision can take place".
"When the oil cost and other costs are increasing there are two ways – one to pass on to commuters and the other is to generate revenue from other sources like using premises in a more effective manner for commercial purpose like advertisements, ATMs, food court and other facilities to generate additional revenue and income which can take care of increasing cost of maintenance," Naidu said.
In the long term, Metro rail has to be made a viable proposition for which different avenues will have to be explored, he said. On the issue of land acquisition for Delhi Metro projects in phase three, he said the issues have to be discussed with the Lt Governor. Land acquisition will be discussed with Delhi authorities, he said.
Naidu lauded Delhi Metro for doing a "commendable job" since the inception of its services in 2002 and acknowledged the contribution made by "Metro Man" E Sreedharan, Managing Director of DMRC between 1995 and 2012.
"I acknowledge the contribution made by Sreedharan, who can be called the 'Father of Metro' in India. I also compliment Mangu Singh and his team of officers and technocrats for doing a good job taking inspiration from Sreedharan. I would also like to compliment the Delhi Govt and its Chief Secretary for the cooperation they are giving for implementation of this project," he said.
The Urban Development Minister stressed that providing effective, comfortable and affordable transport in urban areas is one of the major challenges before the nation. "In 1951 our country's urban population was only 17 per cent. It increased to 377 million in 2011, still urbanisation is 31 per cent. In China it is 50 per cent and in Ghana it is 51 per cent. It is 61 per cent in South Africa and 87 per cent in Brazil. For Asia as a whole urbanisation is 45 per cent and India lags behind," Naidu said.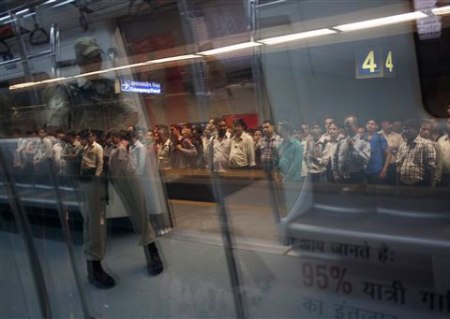 The contribution of urban areas to the country's GDP has increased from 29 per cent in 1951 to 47 per cent in 1987 and major town and cities contribute about 63 per cent of the GDP and it may reach 75 per cent by 2021.
"The number of cities is also increasing. By 2032 we will have a population of 600 million and by 2040 it will be 875 million and by 2050 more than 50 per cent of the population will be urban. That is why this challenge of providing effective, comfortable and affordable transport in urban areas is one of the major challenges before the nation," he noted.
The minister said the Central Government is "keen to do away with rural-urban differences. "I am calling a meeting of urban development officials on July 3 to discuss problems of urban governance, housing for all by 2022 and also improving transport system, sanitation, drinking water and solid waste management, in particular reference to creation of smart cities. We believe people's participation in management of urban affairs including solid waste management is necessary," he said.
For all the latest Delhi News, download Indian Express App