'Living conditions have deteriorated since I stayed here'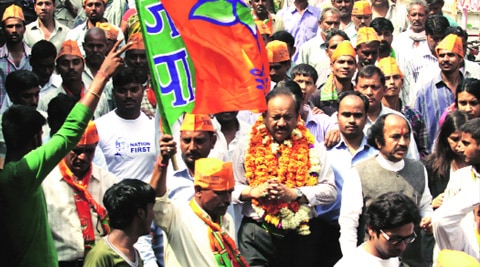 Harsh Vardhan campaigns in Wazirpur. (Prem Nath Pandey)
Pritha Chatterjee & Naveed Iqbal follow the BJP leader as he woos voters in the Walled City.
His campaign pamphlets salute him as "not just a doctor", hail him to be the "Polio unmulan ke janak (Man who eradicated polio)" and "imandar (honest)". Fighting elections for the first time in Chandni Chowk in his political career, Harsh Vardhan, BJP's candidate for the constituency and the party's chief ministerial candidate before the Assembly polls, continues to sell himself as the good doctor with a clean image, in a near-replica of his campaign for the Assembly elections.
Taking on sitting Congress MP Kapil Sibal in a constituency which has a sizeable Muslim population, the start of his campaign was not without surprise. Harsh Vardhan kicked off his campaign by revisiting his childhood home in Turqman Gate after 40 years, "taking the blessings" of its present occupants and repeatedly saying he grew up "in the lap of Muslims".
Speaking to Newsline later, he insists that the crowd and the enthusiasm were not "stage-managed". "I am not trying to do anything artificial.
I have always been friends with Muslims, my roommate in college was a Muslim, who is now a surgeon at the Aligarh Muslim University and remains my friend. Most of my childhood friends here were Muslims and even in my Assembly constituency Krishna Nagar, there is a sizeable Muslim population," Harsh Vardhan says.
His campaign begins at 6-7 am, with walks in parks, followed by roadshows, padyatras and talks targeting different socio-economic groups till 10-11 pm. In his campaigns in Muslim-dominated areas like Chandni Chowk, Ballimaran and Sadar Bazar, he raises what he calls "real issues".
Interestingly, in these areas, while he makes constant references to the party's PM candidate Narendra Modi, Harsh Vardhan also speaks about former PM Atal Bihar Vajpayee's contributions to Muslim welfare. "Everybody knows what Vajpayjee did for Muslims remains unparalleled. He was the most secular leader in the history of this country, you must all know that and I have been following in his footsteps all my life," Harsh Vardhan says in Wazirpur.
In a JJ colony in the area, he says, "Look at the state of your madarsas, what has the Congress done for Muslims and their education in the last 10 years at the Centre and 15 years in Delhi? The same party having power in the state and Centre is an ideal situation. If they wanted, they could have changed the face of madarsas. Is it enough to just don this self-appointed crown of secularism and do absolutely nothing?" he questions.
At a mahila sabha, walking through the streets of Matia Mahal, Harsh Vardhan says, "I am a doctor, I know the worrying numbers of anaemia among Muslim women, so many of your children are underweight and malnourished… Maternal mortality rate is high and health conditions poor. What has the sitting MP from the …continued »