Development is fine but our leaders became inaccessible, admits Rahul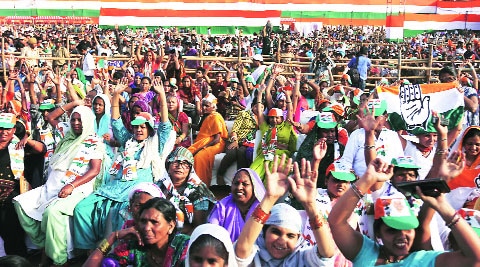 At Rahul Gandhi's rally in Ambedkar Nagar on Sunday. (Amit Mehra)
Campaigning in the national capital reached fever pitch on Sunday — just three days before polling for the Lok Sabha elections. Top leaders from the Congress, BJP and Aam Aadmi Party (AAP) addressed rallies across the city in their last bid to draw voters before campaigning ends. While Congress vice-president Rahul Gandhi addressed a rally, senior BJP leader L K Advani campaigned for Northwest Delhi BJP nominee Udit Raj and AAP leader Arvind Kejriwal spoke in the New Delhi constituency for his candidate, Ashish Khetan.
Almost five months after addressing a thin rally at the Virat Cinema grounds in South Delhi's Ambedkar Nagar ahead of the 2013 Assembly elections, Rahul Gandhi addressed a rally at the same venue on Sunday. "The 15 years of Congress rule in Delhi brought massive development… big roads, flyovers, etc., but we still lost the elections. It was a message from the people of Delhi, which said that all the development is alright, but that our leaders were not as accessible as they used to be. We have heard that message very well," Rahul said, this time addressing a rally of over 3,000 people.
After the Lok Sabha elections get over, he said the Congress party in Delhi would be re-launched as a "more pro-poor" party that involves with the "aam aadmi" more. "We made a mistake and the public also suffered. We heard our public and went on to support the government which was elected. Our public suffered at their false promises of free water and electricity. It is easy to make such false promises… that party smartly took budget clearance for three months when they should have had such schemes on for at least one year," Rahul said, taking a dig at the 49-day AAP government in Delhi.
Without directly naming Kejriwal, Rahul said he had now run away to UP, whereas it was the Congress party that worked for the benefit of the "real aam aadmi". He called the UPA government as the "government of the poor and helpless".
Calling it a fight between two ideologies between the BJP and Congress, Rahul said the BJP was dependent on "one big business house and wanted to ensure the rich get richer". He said the Congress believed in "holistic development, where the benefits percolate down to the poor".
"With what the BJP says, it means that India wants one chowkidar (in Modi), they want that watchman to be India's prime minister and that one man will save the country from all evil. We say that we don't need one chowkidar but many. We want to give that right to all of you."
Campaigning in the capital and Ghaziabad, Kejriwal said after the polls, the AAP would do whatever it could to not let gas prices escalate. "Sansad mein dharne pe baith jayenge, par gas ke daam nahi …continued »