With only two days left for campaigning before the Delhi University Students' Union (DUSU) elections, student organisations are giving it their all in campaigning – from distributing pamphlets and parchas, to printed posters plastered on walls, roads and cars. But what makes the elections different this time is the number of women candidates contesting for the top two posts.
Each year, organisations ensure that at least one woman candidate is accommodated in the panel. This time, seven of the 11 candidates for the post of president and vice-president are women. While the Akhil Bharatiya Vidyarthi Parishad (ABVP) and the National Students' Union of India (NSUI) have fielded a woman candidate each, smaller organisations have reversed the trend seen in DU, where women are usually fielded for the secretary's post.
The All India Students' Association (AISA) has three women candidates for the post of president, vice-president and joint secretary. Similarly, candidates being fielded for the top two posts by the Indian National Students' Organisation (INSO) are women. The Students' Federation of India has also fielded a woman as its presidential candidate.
Women candidates see this as a positive trend. "It's a very good sign. When we say 'beti bachao, beti padhao', it should also reflect in these things. ABVP has always encouraged women's participation and their empowerment. One of our demands this year is mandatory self-defence classes in every college so that women feel safe," says Priyanka, who is contesting for the post of vice-president from the ABVP.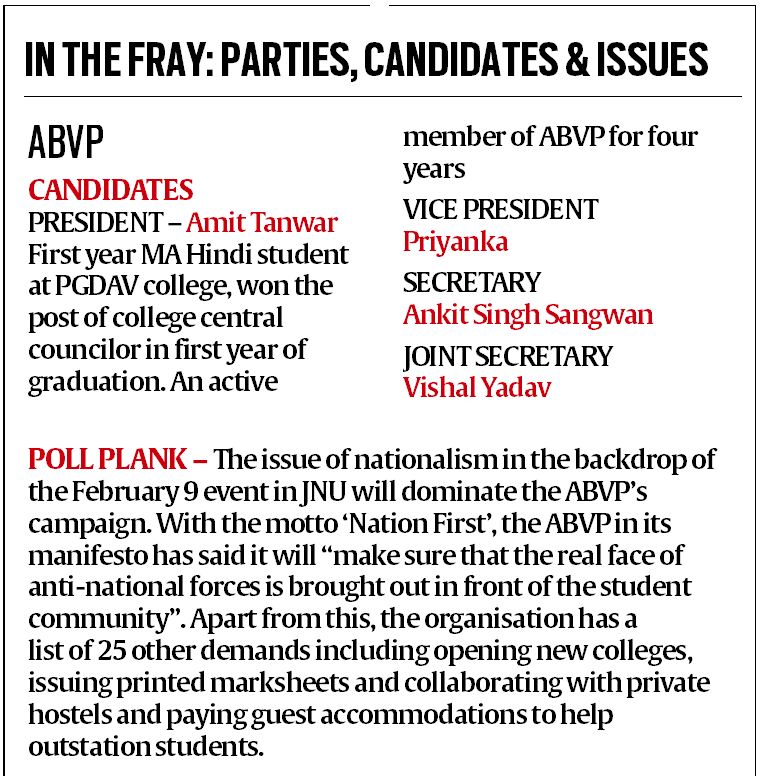 For the first time this year, the NSUI has launched a specific women's manifesto with agendas such as constructing more common rooms for girls. "The issues we have raised in the manifesto are echoing with students. I think such a step was much needed," says Vinita Dhaka, who is contesting for the post of secretary.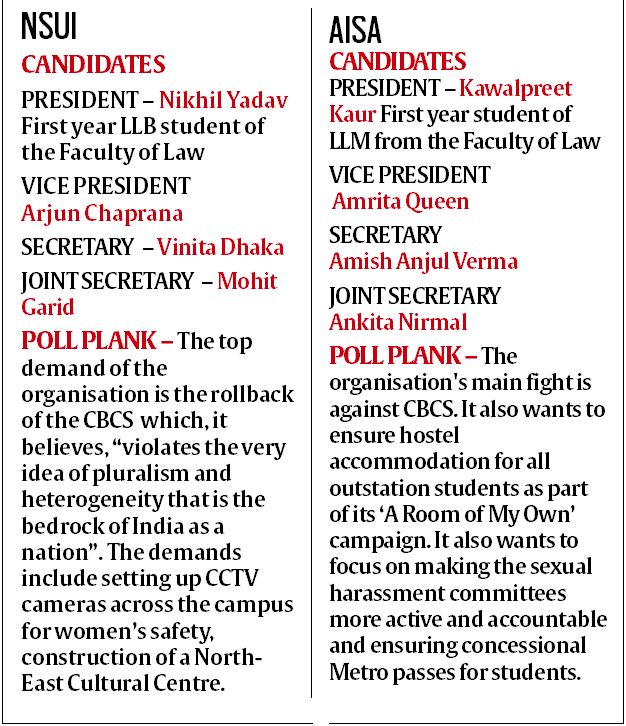 However, some organisations have warned against the tokenism of these parties. "In the name of women's safety, the NSUI has said they will install CCTVs. This is not our idea of safety. We want more active sexual harassment committees," says Kawalpreet Kaur from AISA.
INSO says its selection of women candidates was intrinsically linked to their capabilities. The organisation's presidential candidate is from Dyal Singh College.