Campaigning ends, Delhi all set for polling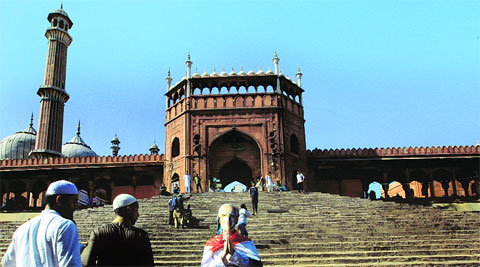 A Congress supporter sports a Sibal mask on the steps of Jama Masjid on Tuesday, the last day of campaigning. Delhi will vote in the Lok Sabha elections from 7 am on Thursday. Ravi Kanojia
As dusk approached on Tuesday, the last day of campaigning in the capital, the loudspeakers fell silent, the drumbeats rolled down and the candidates got off their campaigning vehicles. The curtains fell on a month of hectic campaigning, high-voltage drama, and claims and counter-claims, with each of the three main parties claiming that it will sweep all seven Lok Sabha seats in Delhi.
BJP
The party office had a relatively dull day as all the action was on the roads, in various constituencies. Party candidates spared no effort in making a last appeal for votes in the name of their PM candidate Narendra Modi. The BJP also made arrangements to distribute 'prasad' to all on the occasion of Ramnavami.
With polling just a day away, the election campaigning committee chief of the Delhi BJP V K Malhotra held his routine press conference. A few of the leaders sat together chatting about who will win which seat in Delhi. former Delhi unit chief Vijay Goel posed his favourite question to mediapersons — who will be the winners?
At the end of the interaction, Malhotra said, "After polls, there will be a waiting period and till then everything will come to a halt. On the day of results, we will treat all because we will be winning a majority of the seats."
Congress
As campaigning drew to a close, a hush fell over Rajiv Bhawan — the office of the Delhi Pradesh Congress Committee. Delhi Congress chief Arvinder Singh Lovely said since Sunday, when party vice-president Rahul Gandhi's had address a rally in the capital, the workers were "enthused and ready to win all seven parliamentary constituencies".
However, no member of the Congress's senior leadership was seen campaigning in the capital on the last day.
The DPCC office remained deserted well before the campaign deadline of 5 pm. Lovely said workers and candidates were out on the field campaigning and interacting with voters.
Outside, on the Deen Dayal Upadhyay Marg, BJP workers threw out Modi pamphlets from a moving truck. An auto driver distributed Aam Aadmi Party topis to fellow drivers. Just like its leaders, Congress workers too were not seen anywhere in the vicinity.
AAP
Rattled by the Sultanpuri incident when its party chief Arvind Kejriwal was once again slapped, AAP workers and leaders — Manish Sisodia, Somnath Bharti and Rakhi Birla — gave their campaigning a miss as they hurried to join their party chief at Rajghat.
Minutes later, the senior leadership addressed mediapersons at Kejriwal's Tilak Lane residence, urging supporters to refrain from indulging in violence. At the same time, they warned …continued »