BJP celebrations start before counting, Cong goes into hiding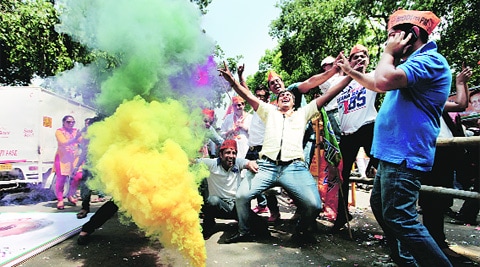 BJP workers celebrate in the capital. ( Source photo by Ravi Kanojia )
Congress and AAP supporters were conspicuous by their absence outside the counting centres in Delhi on Friday. In contrast, BJP candidates and supporters swarmed the counting centres since morning, kicking off celebrations even before the results were announced.
North-west Delhi
Even before he set foot inside the counting centre, he was sure of victory. "We are certain to win. The only thing that needs to be determined is the margin of victory," Dr Udit Raj, BJP candidate from North-west Delhi, said, an hour before counting began.
Over the next few hours, he was proved right when he defeated his nearest rival, AAP's Rakhi Birla, by 1.06 lakh votes. Raj, who joined the BJP just a few months before the elections, polled 6,27,529 votes against Birla's 5,22,842. Congress' Krishna Tirath polled 1,57,468 votes, coming third, followed by BSP's Basant Panwar with 21,485 votes.
Likening the party's defeat to people's need to change furniture, Tirath said, "Everyone knows what happened, I don't need to explain it. Jaise log sofa change karte hain, isse waisa hi samjhiye (Think of it as people changing their sofas)."
Chandni Chowk
By 10 am, BJP volunteers and party workers gathered at the counting centre and began celebrating a "sure" win.
AAP's Ashutosh, who arrived early at the counting station, visited all the counting rooms, but left quietly, refusing to give any statement to the media. There were few AAP supporters at the centre and barely any Congress workers.
BJP's Harsh Vardhan reached the centre in the afternoon. He won by over 1.36 lakh votes.
Congress' Kapil Sibal did not visit the counting station and refused to comment.
East Delhi
The Commonwealth Games Village, with which Sandeep Dikshit's mother and former Delhi Chief Minister Sheila Dikshit was closely associated, was the counting centre for this constituency. It was also where Congress candidate from the seat Sandeep Dikshit's defeat was announced.
BJP's Maheish Girri polled 5,72,202 votes and won by 1,90,463 votes. AAP's Rajmohan Gandhi came second, polling 3,81,739 votes. Sandeep Dikshit polled just 2,03,240 votes.
New Delhi
The results for the New Delhi constituency become clear by 11.25 am, with BJP candidate Meenakshi Lekhi already giving statements by then about her priorities.
Lekhi polled 4,53,350 votes, winning by over 1.6 lakh votes and defeating AAP's Ashish Khetan, who came second. Congress' Ajay Maken trailed far behind with 1,82,893 votes.
"There are slums near 7, Race Course Road and Tughlaq Lane. Congress vice-president Rahul Gandhi didn't have to go all the way to UP to meet Kalavati and should have just looked at his own backyard," Lekhi said.
West Delhi
It was 9.30 am when Parvesh Singh Sahib, BJP candidate from West Delhi, visited the counting centre at Dwarka, accompanied by party workers. "We predicted this win," he said, as he settled on a sofa to watch TV. "It is the Modi factor that counted. We won because of him and …continued »