Published: March 18, 2014 4:05:29 pm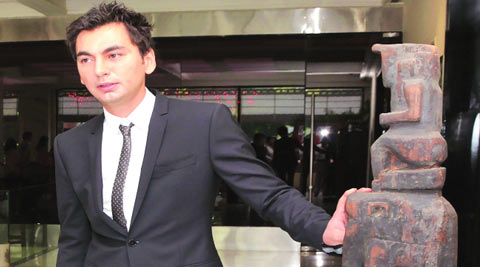 He is a qualified architect but is happier working on interior designing projects. A Romanian who has made Belgium his home, 36-year-old Alexandru Dolea is a creative mind — restless, free-spirited, following his passion rather than settling for a cosy life. Add to that he comes from the royal family
of Romania.
Six years ago Dolea arrived in Mumbai to design the interiors for a German company; he never left. "It was amazing how pedestrians on India's roads are always smiling," he says. He travelled the length and breadth of the country, and returned to Antwerp two years ago. But soon came back to start work for two hotels in Bhutan in collaboration with Anurag Kanoria of Mumbai-based destination furniture store, The Great Eastern Home. He now shuttles between Antwerp and Mumbai.
His royal lineage gives Dolea an in-depth understanding of period styles and luxury aesthetics, leading him to curate "The Grand Trunk Show" in Delhi — a display of one-of-a-kind vintage furniture pieces from across the world — in collaboration with Taj Khazana. "You can either love India or hate it; you can't ignore it. I fell in love with the country," he says, "You have to move beyond the misery of people here to realise the beauty; in my case, the beauty of fabrics, carpets and woven textiles." The 40-odd pieces were on display until yesterday at the Taj Palace and the Taj Mahal hotels.
These were part of a larger exhibition of 600 pieces that was held at the Taj Falaknuma Palace in Hyderabad last month. "I realised that because of the passion of Indian maharajas for all things European, there are a lot of European influences in the Indian vintage furniture and architecture," he says.
But that is only half the story. While India was and is fascinated with European art and architecture, Dolea says there are always Indian vintage furniture pieces to pick from in his part of the world – be it Romania or Belgium. The most enduring and charming pieces of Indian interior art to be found in Europe are the massive and bulky gates used by the royalty. "Besides, figurines from Gujarat and Rajasthan are the hottest selling items," he says.
Although Dolea is returning to Antwerp this week, he will be back for the next leg of The Grand Trunk Show, to be held at The Taj Mahal Palace in Mumbai next month. About the difference in the art sensibilities between people in Delhi and Mumbai, he says, "While people here want things that are monumental and over-the-top, Mumbai likes to play it safe by keeping it simple and understated. I think the ideal path lies somewhere in-between."
divya.a@expressindia.com
For all the latest Delhi News, download Indian Express App