Batla remark hurting his campaign, Harsh Vardhan dials V K Malhotra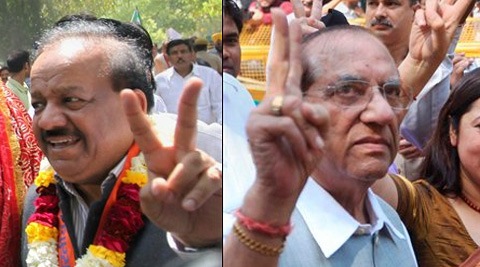 Harsh Vardhan (left) clarified his stand to VK Malhotra.
With the controversy over senior BJP leader V K Malhotra's remark — calling areas like Jamia Nagar and Batla House "safe houses" for terrorists — threatening to affect his campaign, Delhi BJP chief and party candidate from Chandni Chowk, Harsh Vardhan said he called his party colleague on Sunday and "clarified the party's and my stand" on the issue, "requesting" that the matter "not be dragged any further".
"I called Malhotra and told him that our stand is basically that terrorism has no colour or creed, and that such politically potent statements are completely unnecessary before the polls. Malhotra clarified to me that when he made the statement, he was referring to the 2008 Batla House incident, where police had to conduct an encounter and inspector Mohan Chand Sharma also died," Harsh Vardhan said.
He added that "personally" and from the "party's perspective", "such statements are unnecessary, since it creates confusion in the minds of voters before the polls".
Speaking at a conference later on Sunday, Malhotra, who till Saturday had insisted he stood by his comments, dodged journalists' questions on the matter, saying, "I have answered all the questions related to my comment on terrorism in areas where Muslims are in majority population. I don't think there is more I can say on this".
BJP's minority cell chief Atif Rashid also said Malhotra's statements were not the party's viewpoint. "We do not stand for such generalisations, we are a national party looking at creating development for all, across communities and creeds. We do not stand for branding communities and localities as terrorists," Rashid said.
For Harsh Vardhan, who is fighting his first election in Chandni Chowk where Muslims constitute 15 per cent of the electorate, his hectic campaign schedule over the past week has been structured around "issues" concerning Muslims such as health, education and sanitation of the area.
While he maintains that he is known as a secular leader and the issue has not affected his campaign, Muslims from Chandni Chowk are giving a mixed response. The issue has already been raised by senior members of the community. In his address before Friday prayers on March 28, imam of Fatehpuri Masjid Mufti M Mukarram Ahmed had said "the heart of the Muslim wept at such statements".
"What does BJP's V K Malhotra mean when he says people of Batla House are protecting terrorists, and these areas harbour terrorists? Does he mean all Muslims are terrorists? The heart of the Muslim weeps at such statements and there is no one to hear us," Ahmed said.
According to Abdul Waheed, president of Jamaat-e-Islami Hind in Delhi, "Such comments can obviously affect campaigns, because BJP has a history where some of its leaders make such sweeping statements before the polls just to get votes of the majority community. But people are very intelligent, they don't fall for such gimmicks…"
In …continued »