At 3240, Fatak Teliyan, his place of birth, Vardhan begins campaign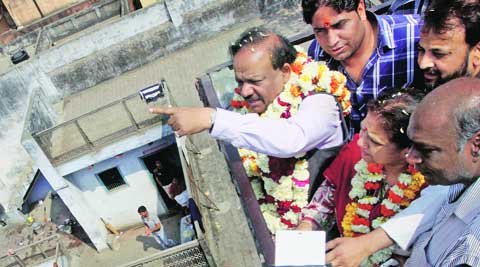 Harsh Vardhan was born in 3240, Fatak Teliyan. (Above) Vardhan with supporters at the house on Saturday. (Prem nath Pandey)
House Number 3240, Fatak Teliyan, Turkman Gate, is home to five brothers — all businessmen who work long hours. The household of about 15-20 people became the talking point on Saturday morning, when the BJP candidate from the Chandni Chowk, Harsh Vardhan, visited it. He too has a connection with that house — he was born there. And it was only apt that he start his LS campaign there.
Taking a tour of the home, which is now two storeys higher than the two-storey building his family had rented, a teary Harsh Vardhan said, "The window in the kitchen through which we would jump from our house to the next is still there… It is a very emotional visit for me. The corner where I would sit and read, the sitting room — everything is still the same."
While walking through the street outside the house, Harsh Vardhan said the condition of the area has deteriorated. "Forget any improvement, I think Fatak Teliyan is in a pitiable state. Despite being elected twice from here, the present MP Kapil Sibal has not done anything in terms of sanitation or infrastructure. When we lived here, so many years ago, it was much cleaner," he said.
Harsh Vardhan said while no one he knew then was living there, he was still in touch with six families who were his neighbours back then.
Harsh Vardhan spent some time in the house of his childhood — posing for photographs with the residents of the house, all crowding into one room, and seeking the blessings of 80-year-old Nasihat, whose husband had bought the house over 25 years ago.
Iqbal Khan, one of the brothers staying at the house, said they had first heard of Harsh Vardhan when his nephew contacted them earlier this week after Harsh Vardhan's candidature was announced.
"His nephew told us that Harsh Vardhan was born here. Since then, every day someone from the BJP is here," Khan said.
The family cleaned up the house for his visit today. "No one comes to our house, the walls are peeling, the flooring is uneven. Suddenly, so many people are visiting our house, even mediapersons. It is quite overwhelming," Rabia, the wife of one brother, said.
So what did the family tell Harsh Vardhan? "My son has been ill for the last 10 years, his kidneys are failing. We have not been able to find a matching donor for a transplant. We have to take him for dialysis every week. I told Harsh Vardhan to help us with treatment," Rabia said.
Eighty-year-old Nasihat said she had made one request, "When he came to touch my feet, I told him that this was his house too, and so he should help us put in a …continued »