Written by
Dipanita Nath
| New Delhi |
Updated: June 16, 2014 10:17:58 am
This quietly rebellious play begins – unlike all theatre traditions – at the gate of the hall when the audience is walking in. The people gathered for a show of Koogu (Kannada for shout) have no inkling that the man hanging around and chatting with them casually but constantly is the evening's solo actor Anish Victor. "Some kind of guess but are not sure, which is where I want them to be," says Victor. Having created a haze of unknowingness, the Bangalore-based actor arrives on the stage and continues with his performance in which dance, sound, song and music are wrapped in a series of conversations that are "a call or a paean to invoke the warrior who resides in every being". The Delhi show of Koogu will be held at Studio Safdar on Saturday.
The idea of the play was born when Victor and Bangalore-based French dancer Michel Casanovas began to meet and talk about life and what it means to be a performance artiste. "Over and over, our conversations revolved around performance artistes being in constant opposition to something or the other. This led us to wonder about what it means to be a warrior, about wars and whether there are wars at all or were they figments of the artiste's imagination. As we talked, we began to improvise and give our discussions a life as theatre," says Victor, adding that Casanovas is the dramaturge of Koogu.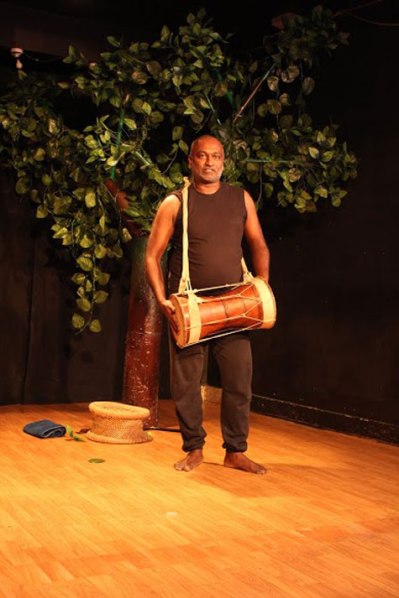 The hour-long narrative of Koogu swings back and forth in time and between incidents from Victor's life and events of the general world. We hear of a grandmother who considered dancing "cheap" and not part of "our culture", events at a church choir where girls and boys sang together, and a failed attempt at running the school marathon among others. "Through these incidents, the performance explores the grey areas that exist within the psyche of every performer wherein the 'character' one is playing begins to merge with the personality of the 'performer'," says Victor, who illustrates his piece with the folk dance Devarattam and martial arts forms such as Silambattam and Tai Chi. Delhi audiences can notch up Koogu alongside recent performances that incorporated audience interaction into the script (C Sharp C Blunt and Something from Nothing among others) and created a more intimate and intense theatre experience.
Koogu's script celebrates resistance but his show doesn't include a stellar episode from Victor's college days. "I was thrown out with 35 others for lack of attendance. The real reason, I feel, is that our group was always questioning the teachers and the way things were done," he says. Three years later, he co-founded theatre group Rafiki ("name not inspired by Lion King"). Victor has now "taken retirement" from Rafiki and concentrates on his personal theatre practice. "I am trying to say that theatre is not a mirror, it is a prism through which you can see things in a fresh way," he says.
Koogu will be staged at Studio Safdar, 2254/2A Shadi Khampur, on June 14, 7 pm. Entry: Free. Contact: 25709456
For all the latest Delhi News, download Indian Express App