AAP rules out reservation for Muslims, special inquiry on Batla House case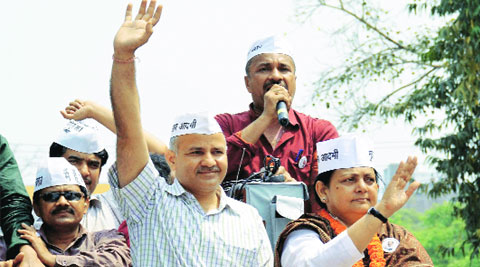 AAP leader Manish Sisodia campaigns in Patna. (PTI)
Members of Aam Aadmi Party's (AAP) manifesto drafting committee on Monday made it clear that the party was not in favour of reservation for Muslims, as it is something that has fallen afoul of courts.
The view was aired despite the party's vision document acknowledging the role of reservation in development of backward classes and weaker sections of society, including minorities.
"The mechanism for development of backward communities is work in progress. There are some options which are not according to the tenets of the Constitution. When a (AAP) government is formed, it is for the government to explore the avenues of development," Irfanullah Khan said. Khan is a member of AAP's political affairs committee as well as that of one of the draft committees formed by the party to generate inputs for its manifesto.
Laying out the "Roadmap For Indian Muslims", so that the community is looked at beyond the realm of vote bank politics, Khan said the party had accepted that Muslim issues should be addressed by Muslims themselves.
"AAP maintains that the Muslim community is the most backward and our strategy is clear, we will devise a mechanism to drive them out of this backwardness. The challenge is to replace their despair with opportunity," he said.
The roadmap is the outcome of a Muslim convention held by the AAP on March 18. It states that Muslim politics has traditionally been dominated by typical religious leaders or by leadership imposed by the political parties.
"For this, the parties trusted selected Muslim leaders and rewarded them with crucial political administrative posts. But this leadership never bothered to empower the community," the roadmap states.
AAP leader Fakhruddin Mohammad said, "Reservation is a lollipop that has been handed to the community by successive governments but it has been turned down by the courts. There is a need to evolve new mechanisms."
However, on a question about whether reservation for Muslims is unconstitutional, all draft committee members replied in the negative.
The party has formed 31 committees to generate inputs for its manifesto. Apart from Khan who had lost the Assembly elections from Okhla, journalist Adil Mohammed too is a member of the committee that deals with Muslim issues.
Khan said a reading of Article 341 of the Constitution shows that "the Constitution does not categorically say that religion-based benefits cannot be given. Muslims are enjoying reservation in many states such as Tamil Nadu and Kerala though the Andhra Pradesh High Court had asked for a report on backwardness from the government."
Khan also ruled out any special inquiry into the Batla House encounter. This had been one of the promises the party had made ahead of the Assembly elections.
"That promise was made before the courts had given a ruling. Now that the court verdict has come, it can only be decided by a higher court. There is no room any longer for a special inquiry. In …continued »