200 metres between despair and ecstasy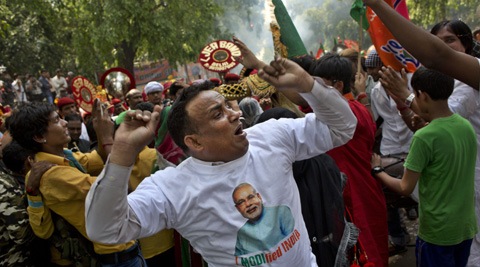 The BJP office brimmed with confidence, the supporters working on the energy of the poll numbers given out by the television screens. (Source: AP )
Tree-lined avenues, manicured bungalows and inhabitants with influence. On most days, Lutyens' Delhi papers over the political affiliations of those residing within.
On Friday though, one power address after the other laid bare its allegiance. Some fell on the right side of a lopsided mandate and celebrated with saffron petals, crackers and elephants. Others mourned, their silence deafening.
Nowhere was the difference more stark than in the 200 metres that separated Akbar and Ashoka roads. Both carriageways were barricaded by police, in anticipation of visitors who were expected to throng the offices of the Congress and the BJP located on these roads. But if the BJP headquarters on Ashoka Road was a carnival of saffron, with the crowd chanting Modi, the Congress office on Akbar Road saw just a few visitors.
The BJP office brimmed with confidence, the supporters working on the energy of the poll numbers given out by the omnipresent television screens. Leaders of the Congress gave media bites only when they had to, retiring hastily to the AICC office.
On the outskirts of Connaught Place, another story of disappointment was playing out. The scenes of celebrations outside 41, Hanuman Road, five months ago seemed a distant memory on Friday.
Two hours into counting, it became apparent that no euphoric broom-waving would happen today. Close to a 100  supporters had collected in front of two TV screens, but as the AAP numbers refused to rise, their crowd dwindled.
Some parties didn't even have spokespersons to defend their dismal performances.
For instance, the bright blue BSP central office in Jor Bagh had no one in sight. The empty two-storeyed structure and its padlocked gate told the story of a party that had lost ground in the national narrative.
Leaders' residences too spoke volumes. Outside L K Advani's Prithviraj Road home stood four OB vans. A constant stream of visitors entered and exited the premises through the day.
At Congress vice-president Rahul Gandhi's 12, Tughlaq Road, residence, the gates were firmly shut. A slew of SUVs with dark-suited personnel stood outside, many listening to the news on the radio.
"Why are you asking if Rahul Gandhi is home? If we are here, it means he is too. But there is no way we can allow you entry. Not today," a security personnel said.
As morning turned to afternoon, Delhi came to a standstill, watching in amazement as BJP's tally kept climbing.
From the ballroom of the stately Delhi Gymkhana Club to a small paan shop in Daryaganj, where the enterprising owner had set up a makeshift television, people gathered in small groups to discuss what the future held.
At the Gymkhana, they spoke of how the business and the bureaucracy would react to a Modi regime.
In the largely Muslim dominated cluster at the paan stall, they spoke of religion and if they too would be included in …continued »