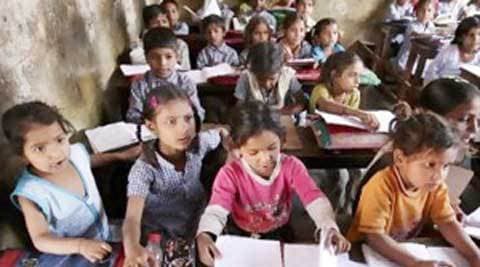 The city's education department's 'experiment' to decentralise the distribution of uniforms to government schoolchildren has failed miserably. While the summer uniforms given to the students at the beginning of the session were delayed by six months, the winter uniforms which were to be delivered by November 2013 are yet to see the light of the day.
Government school students bore the brunt of the harsh winter in their old grey sweaters or the worn out blue ones.
Now with the winters coming to an end and new uniforms nowhere to be seen this will be the third consecutive winter when the students have been forced to manage without proper uniforms.
Following a notification by the Ministry of Human Resource and Development, the education department of the Chandigarh Administration decentralised the process of providing uniforms to the students in March 2013, shifting from the earlier system of the department providing the uniforms to all the schools. Under the decentralised system, individual schools were to procure uniforms at their level.
For the summer uniforms, the schools took three months to shortlist their respective suppliers. Each supplier asked for another two months to provide the uniforms but the students received their summer uniforms in November, more than six months after the schools were assigned the job.
Failing to learn anything from the delay in summer uniforms, the education department directed the schools to start the tendering process for the winter uniforms as late as August 31. The schools struggled with the tendering process and in most cases the suppliers were shortlisted only by October end.
In other cases, in November, 2013 when the winters were setting in and students were being distributed their summer uniforms, some schools were still giving orders for the winter ones, hoping to receive these before the vacations. It's been a week after the vacations got over and in most schools students are still waiting for their winter uniforms. Some schools which have received their uniforms have found that sweaters are missing in the stock as the education department does not have enough budgets to provide sweaters along with the uniforms.
The schools blamed the suppliers for the delay. Kunj Bala, Principal, Government Middle school, Manimajra said, "We gave the orders in the last week of October through e-tendering, which assured us uniforms by December end but now the supplier has extended the date to January 22. The uniforms have to be distributed to as many as 2,824 students." The schools also hold the uniform quality testing laboratory responsible for causing additional delay in supply. Several school heads said the testing lab took weeks to approve the quality which led to the delay.
KR Gupta, CEO of the International Testing Centre, Panchkula where these uniforms are tested said, "The delay is not from our side. There are schools which are sending the uniforms now also. Our job is to test each sample sent by the respective school and to send it back in maximum three days. Almost …continued »