Protests, resignations follow Kher candidature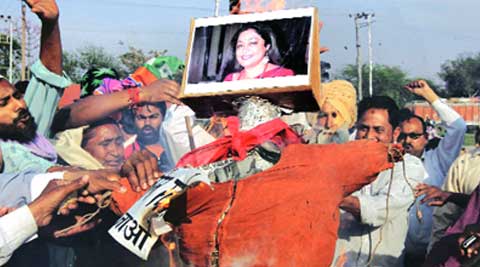 During a BJP protest at Transport Light Point in Sector 26, Chandigarh, on Sunday. (Kamleshwar Singh)
Protests erupted in the Chandigarh unit of the Bharatiya Janata Party a day after actor Kirron Kher was named party candidate for the Lok Sabha election from Chandigarh. Several office-bearers tendered resignations from their posts and threatened not to campaign if the candidate was not changed. They demanded that a local leader be named instead.
There were three aspirants from the city: local party unit president Sanjay Tandon, former MP Satya Pal Jain and senior leader Harmohan Dhawan. The decision to field Kher from Chandigarh came as a surprise. Though her name had earlier been doing the rounds, the election committee after its meeting in Chandigarh had sent forward the names of the local leaders.
Among those who tendered resignations were party vice-president Ramvir Bhatti, president of the Kisan Morcha Jhujhar Singh and district president Bhajan Singh Maru. Kher's effigy was burnt at the transport lightpoint in Sector 26 by a handful of party workers.
Bhatti said, "I have tendered my resignation from the post of party vice-president against the decision to field Kirron Kher from Chandigarh. At this point of time, the people of Chandigarh were ready for a change and the conditions were conducive for the BJP victory. However, the party high command chose to field an outsider. The ticket could have been given to any of the three local leaders."
He said that he would not be campaigning for the elections if the party did not change its decision. "I will not oppose the candidate during the election, but I will not be out campaigning. I do condemn the burning of effigy of Kirron Kher and feel it should not have been done," he added.
Jhujhar Singh said that a candidate from outside should not have been fielded. "I have sent my resignation to party president Rajnath Singh and organising secretary for Chandigarh Ajay Jamwal. There is a need to have a local candidate. Kirron Kher would be settled in Mumbai. People come to us with problems expecting to get these solved. It would be difficult for us. The candidates from outside fielded earlier lost the election," he said.
Party workers also gathered at the party office, Kamlam, in Sector 33 in the morning and raised slogans. A section of the party workers demanded that the party high command should change its decision. Some leaders took up the issue with the senior party leaders.
There had been hectic lobbying among Dhawan, Jain and Tandon for the ticket. Stickers and posters had been printed and the campaign strategy planned. Till the last minute the leaders did not have an inkling about the decision of the party high command. The BJP has not won the last three Lok Sabha elections.
Shows how seriously BJP takes AAP: Gul
Aam Aadmi Party candidate Gul Panag, in a …continued »