Poll over but BJP still sees three-cornered fight — from within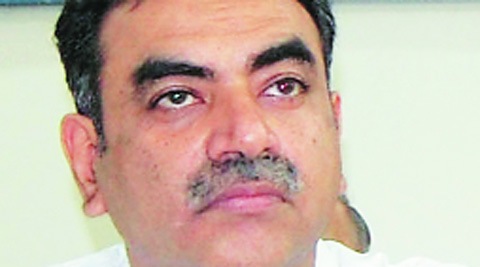 Sanjay Tandon
Having emerged victorious in the Lok Sabha election with a record margin in the city, the Chandigarh unit of BJP seems unable to consolidate the gains. Rather, the fissures in the party have deepened after the victory.
The three top leaders — city unit president Sanjay Tandon, Satya Pal Jain and Harmohan Dhawan — are involved in a game of one-upmanship to seek credit for the victory, much to the chagrin of other senior leaders. The three have not met once after the polling got over.
Senior party leaders say that it was due to their tussle that Mumbai-based Kirron Kher was given the ticket for the Lok Sabha election. They are planning to take up the issue of dissension among top leaders with the party high command after the swearing-in of Narendra Modi as Prime Minister on Monday.
The relations between Jain and Tandon have always been less than cordial. After Tandon took over as the president of the Chandigarh unit, he had, in the name of renovation of party office, got the room occupied by Jain broken down and its area combined with that of another room to make a conference hall.
When Tandon was lobbying for a second term as city unit president, the supporters of Dhawan and Jain held protests at the BJP office. The race to get the ticket for the Lok Sabha election further deteriorated their relations.
Former party president and first mayor of the city Kamla Sharma says, "There is a need for the three leaders to get together and work for the betterment of the city. The differences that are there need to be resolved. There are a lot of pending issues in the city. People have given a mandate to the party to find solutions."
Another former president, Dharampal Gupta, says, "There has to be a limit to groupism in the party. The victory is not being celebrated properly. Both Jain and Tandon should resolve their differences. The city unit president is not taking along everyone. People voted in the name of Narendra Modi and not for the local leadership. There is a need to fulfil the responsibility that people have entrusted to the party."
The victory was significant for the BJP as it has come after 15 years of losses in the city. However, the bitterness among the leaders has failed to subside. The Tandon camp has accused Jain of not involving the city unit president while appointing counting agents and not giving time to party functions. However, the Jain camp is accusing Tandon of sabotage in the election and humiliating senior leaders.
Neither Tandon nor Jain wanted to talk about the issue. However, Tandon said a meeting of the executive committee of the party would be held on May 31 wherein all office-bearers would be present.
As for Dhawan, he is busy meeting people who are visiting to congratulate him on Kher's victory. He is also attending all party functions and meetings that Jain …continued »