Pawan Bansal blames administration, says 'decisions were not taken'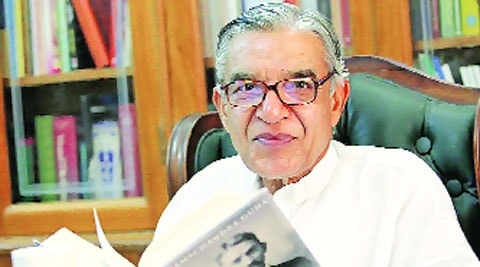 Reflecting on past: Pawan Bansal. ( Source: Express)
Former railway minister and city MP Pawan Kumar Bansal has blamed the Chandigarh Administration for his defeat in the Lok Sabha election, saying that it did not work, but the electorate held him responsible when the issues close to their heart did not get resolved.
Having been an MP from the city four times, Bansal lost to BJP candidate Kirron Kher by a margin of around 70,000 votes.
Talking to Newsline on Sunday, Bansal elaborated, "I failed to get some issues resolved from the administration. Wherever it involved some pecuniary benefit to the people, the decisions were not taken. Instead, I was repeatedly reminded about the so-called booth allotment scam when I took up these issues."
Some of these issues included allowing need-based changes in the Chandigarh Housing Board houses, the demand of industrialists for conversion of leasehold properties into freehold, and the demand of traders for revoking the heavy penalty that is imposed for misuse of premises, the former MP said.
"As a group, residents of CHB houses voted against me. I had earlier surveyed these houses along with the chairman of CHB, Finance Secretary and Chief Architect. They agreed that the demands of the people were genuine. Still nothing came out of it. Instead, on April 7, an order was issued in violation of the model code of conduct that transfer of houses will not be allowed, which we wanted as a one-time relaxation," he said.
Bansal stated that in case of increasing lal dora, when the issue of Hallomajra was resolved, the order issued was such that it negated what was allowed. He said that there were also problems in the implementation of the Small Flats Scheme.
"The administration had a condition that the name of the beneficiaries has to be there in the electoral rolls of the year when allotment of houses is to be made. The inclusion or deletion of the names is in the hands of petty officials. I had suggested that some other proof should also be accepted. However, this was not done," said the former MP.
Bansal added that the supply of ration was stopped two months before the elections as the Food Security Act was to be implemented. This also went against him "as people who did not get the ration were angry''.
"I blame the BJP for such a situation. They raked up the issue of booth allotment. This created a kind of atmosphere where decision-making in the administration suffered. Earlier, decisions were being taken. But after this, the officials became wary of taking any decision that involved pecuniary benefits to people," he said.
Bansal said, "I had thought that the development work that I had undertaken, including building a physical and social infrastructure in the city, will work for me."
"Starting 10 trains in a year, increasing watch hours at the airport for starting international flights and getting additional funds was no mean …continued »