On the leaders' radars: Colonies, villages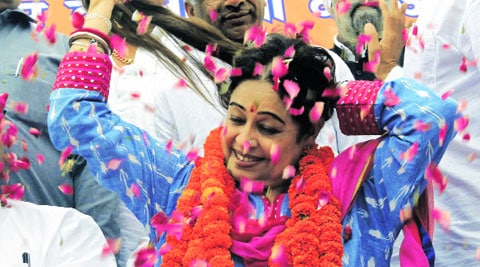 BJP candidate Kirron Kher during a rally at Manimajra on Sunday
With more people in colonies and villages coming out to cast their votes, the focus of the campaigns of political parties is more on these areas rather than sectors. The response that the campaigns of the political parties receive in the urban areas is relatively tepid.
Leaders of different parties state that during the campaign every party wants to show numbers which is not possible in the urban areas.
Around 30 per cent of the voters in Chandigarh reside in colonies and 14 per cent in villages. A substantial 56 per cent are there in urban areas. During the Lok Sabha elections of 2009, 68 per cent of colony dwellers cast their votes as compared to 64 per cent in the urban areas. While the vote share of the Congress was 54 per cent in the urban areas, far ahead of the other parties, in the colonies there was polarisation of votes.
The vote share of the Congress in colonies was 36 per cent. The BSP was close at 33 per cent and the BJP was third at 19 per cent.
In the rural areas, while the Congress polled 40 per cent votes, the BJP had 31 per cent. This time as well, division in the vote share of the parties in colonies is expected.
Senior Congress leader Subhash Chawla says, "The voting percentage is more in the colonies and villages than in the urban areas. Congress is approaching the colonies in order to consolidate its vote bank there. Campaigning is undertaken in sectors in the last 10 days. Also, the resident welfare associations prefer to hold meetings only at weekends when people are available."
Over the past few days, padyatras and public meetings of the political parties are focused more on the colonies and villages. The Congress has reserved time in the morning for padyatras in colonies and in the evenings, public meetings are held in villages. Even the BJP which started its campaign in the end after the issue of candidature was settled has held more meetings in the colonies.
Former MP and senior leader Satya Pal Jain says that the voting in the colonies and villages is more than the urban areas. "During our campaigns, parties want to show crowds which is indicative of the response that is received. In colonies where the area is smaller, more crowd gathers. This does not happen in the sectors," he says.
Demands of the colonies and villages dominate the agenda of the parties. From slum rehabilitation to increasing the lal dora and provision of basic amenities in these areas are some of the promises being made. In fact, when it comes to campaigning in sectors, the southern sectors are preferred by the political parties which are thickly populated. Parties prefer meeting industrialists or traders separately.
For the BSP, the traditional votebank is in colonies. The …continued »