Modi in city: Addresses rally, takes dig at Bansal, Rahul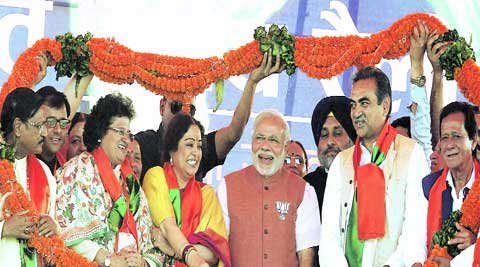 BJP's prime ministrial candidate Narendra Modi with Dy chief minister Punjab Sukhbir Badal, city candidate Kirron Kher and other party leaders during the 'Bharat Vijay Rally' in Sector 34's Exhibition ground on Saturday. (Kamleshwar Singh)
Having been sitting in the sun for around two hours and drained of energy, the people gathered to listen to BJP's prime ministerial candidate Narendra Modi were suddenly charged up as the leader made his appearance on stage.
Modi had them cheering as he took digs at the Congress candidate from the city, talked about his connection with Chandigarh and enacted Congress vice-president Rahul Gandhi's mannerisms on stage. The exhibition ground in Sector 34 was covered with a tent of party colours orange and green. Party flags adorned the venue. With all roads to the venue having been blocked for traffic, people could be seen walking towards the venue. Party workers started arriving at the venue ahead of time. With the afternoon sun at its scorching best, the party workers listened as their local leaders addressed the gathering one after the other.
It was after the arrival of Modi, that the venue resounded with slogans hailing him. The leaders on stage gathered around him. Modi connected with the people, raising questions and asking them to answer.
As he took over the stage, the gathering cheered and clapped with Modi engaging them in his speech. Modi who has been the in-charge of the Chandigarh unit of BJP from 1996 to 1999 said that he had close ties with families residing in the city. "I feel I have come back home. I feel if I had not worked in this area, my education would have been incomplete. I understand the problems of the people here. Your future Prime Minister would know more about you than your representative. I lived in Panchkula for many years," he said.
Taking a dig at the incumbent Congress MP from Chandigarh, Pawan Kumar Bansal, Modi said, "Jab aandhi hoti hai toh pawan ko yaad koi nahi karta. Aaj jo aandhi hai April 10 tak Tsunami mein badal jayegi. Bhrashtachar ki pawan yahan nahi chalegi. Ise yahin pe gaad do." (When strong winds blow no one remembers the breeze. The strong winds now will change into a Tsunami by April 10.)
He questioned why the Congress had removed Bansal from the Cabinet and why was he being fielded again from Chandigarh. Modi expressed his surprise that Chandigarh was developed. Seeking votes for BJP's candidate Kirron Kher, Modi stressed that the party's victory would be incomplete if the lotus does not bloom in Chandigarh.
"I believe that Chandigarh could be the education hub for the north. Girls from Kashmir go to Kota for studying. If Chandigarh was developed as an education hub, they would …continued »