Kirron Kher rides Modi wave to victory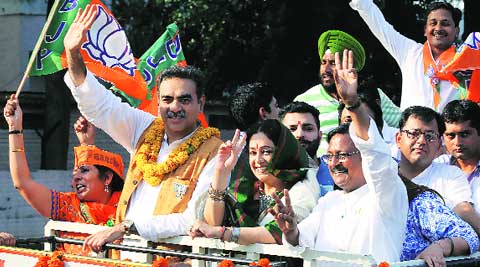 Kirron Kher during the victory procession in Chandigarh on Friday. ( Source: Express photo by Jasbir Malhi )
Propelled by the Modi wave, BJP candidate Kirron Kher defeated four-time Congress MP and former railway minister Pawan Kumar Bansal on Friday, becoming the first woman MP from the city.
The BJP tasted success after a gap of 15 years as Kher won by 69,642 votes, the highest victory margin in the city's electoral history.
She polled 1.91 lakh votes while Bansal got 1.21 lakh. The Aam Aadmi Party's Gul Panag was placed third with 1.08 lakh votes while the BSP's Jannat Jahan polled only 15,934 votes.
Kher took early lead in the first round, and increased it as the counting progressed. She got good votes in all areas, including the colonies, villages as well as the urban areas. In none of the 26 wards did Bansal get more votes than her. Even in the colonies, which were considered Congress strongholds, Bansal did not get a lead.
The candidature of Kher had initially led to much resentment within the BJP. On her arrival in Chandigarh, she was greeted with protests in which stones and eggs were thrown at her, and black flags were shown.
Kher had been picked over three local aspirants — former MPs Satya Pal Jain, Harmohan Dhawan and city BJP Sanjay Tandon — who had been lobbying hard for the BJP ticket. Also, the Congress tried to project Mumbai-based Kher, and also AAP's Gul Panag, as an 'outsider'.
But, after the initial resistance, the party leaders started campaigning by projecting the BJP's prime ministerial candidate Narendra Modi, instead of the candidate.
Commenting on the victory, Sanjay Tandon said, "The Modi wave swept the country as well as Chandigarh. The credit for the victory here goes to the hard work of the party workers who campaigned wholeheartedly. The charisma of Narendra Modi attracted voters."
Congress president B B Bahl stated that they had expected a close contest, so the victory margin came as a surprise. "There is a need for introspection as we did not win from any ward. The city residents seem to have showed their anger against us. Pawan Bansal had done a lot of work, but the people do not seem happy. We will constitute a committee and find out the reasons," he said.
Old Modi connection
The BJP had won the Lok Sabha election in Chandigarh in 1996 and then in 1998, and both times Satya Pal Jain was the candidate. After that, Bansal won in 1999, 2004 and 2009. Earlier, he had also won in 1991. Interestingly, Narendra Modi was in charge of the Chandigarh unit of the BJP when it last won the election. He lived for six years in Panchkula. Apart from Chandigarh, he was also in charge of the BJP units of Punjab, Haryana and Himachal Pradesh. It was also during Modi's …continued »