'Is Rahul insider in Amethi?…Fourth generation of my family is now in city'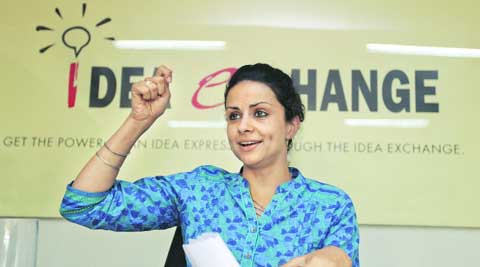 Gulkirat Kaur Panag during Idea Exchange on Thursday. (Jasbir Malhi)
In this Idea Exchange, moderated by Editor (Chandigarh) Vipin Pubby, AAP candidate Gul Panag talks about joining the party and how she wil get work done.
Khushboo Sandhu: What is the response that the campaign is getting?
There are two kinds of reactions I get. One is just anger at the entire political class and the other is that of hope. The hope that they are seeing is not the hope that tomorrow things will change because I cannot promise that. All I am urging people is to be part of the initiation process. There was already a fair degree of response to the movement but post Kejriwal's road show, there is a surge of solidarity which is overwhelming.
Chitleen K Sethi: Before joining AAP were you involved with any work in Chandigarh?
I have been running an NGO out of Chandigarh – Col Shamsher Singh Foundation – for over four years now. The NGO is named after my grandfather who died two years ago. It was started when he was around. He worked in our village in district Fatehgarh Sahib.  We subsequently signed an MOU with the UT Administration where we followed the Nawashahr model of tracking pregnancies.
Khushboo Sandhu: How did you handle the divisions in the AAP's city unit when you took over?
In a party where you invite anybody and everybody to apply for a ticket, I think it was a very fair system. The dynamics that came out of the system were in some ways difficult to deal with. With 200 people applying for the ticket, we are left with 199 disappointed candidates. There is bound to be resentment. Arvind Kejriwal said on Sunday that he was happy with the way the party had rallied around despite its fractured nature. I think there is a divine hand somewhere. By 10 days, everybody was on board. People who were upset and had gone to other zones came back. It is good to have everybody on board and the fact that we are all in it together. It is a tightly knit group, though I must admit that we have had opposition parties approach our boys.
Mukesh Bhardwaj:Your government lasted for 49 days in Delhi. Why should people trust and vote for you?
I would like to place on record that the first Vajpayee government also lasted for 13 days. The government was formed with Congress support. There was massive debate on a repoll. Finally, because we wanted this bill to be passed, we chose to take the dubious support of the Congress party. Two parties joined hands to make sure the bill was not introduced because once introduced, they could not have opposed it. I think it was a symbolic resignation, one that we haven't seen since the times of Lal Bahadur Shashtri. If there's a repoll, the party will be elected …continued »