I don't say I will fetch the moon… I make realistic promises: Bansal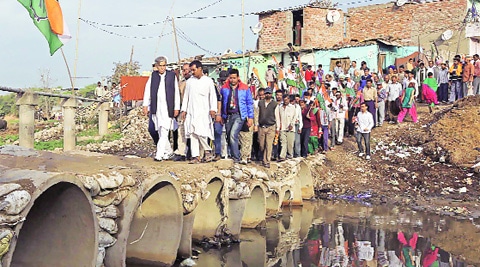 The 7 am outing: Pawan Kumar Bansal at Faidan village in Chandigarh. (Photo: Jasbir Malhi)
IT'S 7 am. With garlands and party flags in hands, members of the Chandigarh unit of the Congress wait for the arrival of their candidate Pawan Kumar Bansal. Scarfs with party colours are distributed and arrangements checked. As Bansal's car arrives, slogans fill the air. Amidst beating of drums, Bansal, along with partymen and local residents, embarks on a padyatra, interacting with people as he passes along.
As the incumbent MP, Bansal is eyeing a fourth consecutive term in office. His day starts with a padyatra in one of the colonies. The group walks through every lane, ensuring that there is no house left that is not touched. People carrying microphone raise slogans hailing Bansal and the party. Curious onlookers come out of their houses to see what the commotion is all about. Party loyalists and local leaders join the canvassers.
Along the way, Bansal greets some residents. While little can be heard amidst the noise, those accompanying him try to decipher the mood of the voters. Some complaints follow about the local problems or the need for better amenities. After covering the colony, the residents along with the party members gather for a meeting where some leaders and Bansal address the gathering.
After this, Bansal heads home where groups of people are scheduled to meet him. After the meetings end, it is time for the second round of campaigning which has to be wrapped up before lunch. Markets in two or three sectors are chosen where Bansal along with other party leaders meets the shopkeepers, starting from one end of the market to the other. At places where supporters of the party are present, Bansal is offered garlands. At others, tea and snacks are arranged.
Party leaders say that covering the markets is essential as it creates the "atmosphere'' and helps reach a wide section of urban voters. A break for lunch follows. Post-lunch, meetings are scheduled with small groups in different sectors. Some time, groups of industrialists or traders arrange a programme. In between a trip to the party office in Sector 35 is squeezed in to hold meetings.
The evenings are reserved for public meetings and rallies in villages. Every evening, at least two villages or colonies are covered. Bansal speaks on issues pertaining to development over the past 15 years in his tenure as local MP, the presence of "outsiders" in the election fray, and his promises for the future.
At places, questions are raised about the pending demands and people ask why these have not been fulfilled. Bansal says, "I have never promised people I will fetch them the moon and that rivers of honey and milk will flow in Chandigarh. I make realistic promises and assure that I will take these up at every level."
Having contested in six elections from …continued »