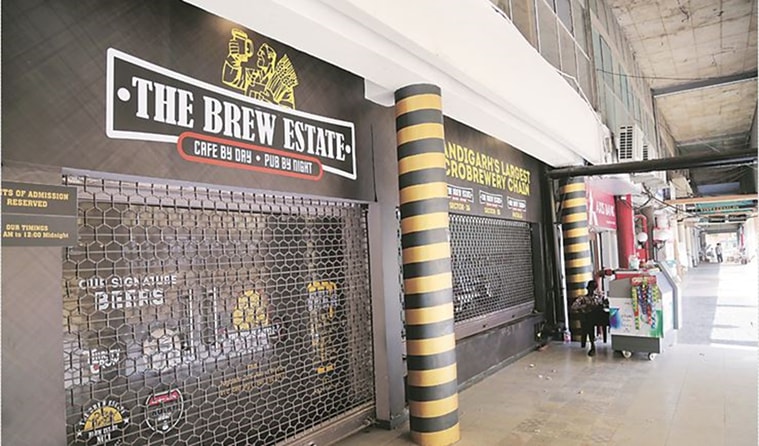 DASHING THE hopes of hotel owners located on Madhya Marg, a division bench of the Punjab and Haryana High Court Tuesday dismissed their petition filed against UT Administration for not denotifying the stretch of Madhya Marg, which was declared as a state highway.
A bench comprising Justices Rajesh Bindal and Harinder Singh Sidhu was of the opinion that the matter was pending before the Supreme Court and even a direction for deciding representation in this regard could not be issued.
As the hotel owners will not be allowed to serve alcohol, for the time being at least, a meeting to decide the next course of action will be held Wednesday. Kuldeep Gupta, who owns Tao in sector 26, said, "We will either shift to Industrial area Phase 1 or Panchkula or Mohali. We will decide after the meeting."
The Brew Estate in Sector 26 has already shifted to Elante. The change in classification of roads had earlier paved way for vends to function as the ban on their existence was on state highways and not "major district roads".
Nearly a fortnight ago, the Punjab and Haryana High upheld the change in "nomenclature of certain roads" from state highways to "major district roads". Hotel owners located at the Madhya Marg in their petition had claimed that the UT's stand on letting this stretch remain as state highway was "discriminatory."
The owners had told that in the master plan of UT, it was clearly mentioned that Madhya marg is that stretch which begins from Transport chowk and ends at PGI. It was a V2 road, they said.
The worst hit businesses in Chandigarh after the SC ban are the ones located on the Madhya Marg in Sector 26 Chandigarh and Sector 7, Chandigarh. Madhya Marg has several microbreweries were located there. Plans for new ones have also been hit.
The SC had banned the sale and serving of liquor within 500 metres of national and state highways in December 2016. This decision was made because of the rising deaths due to drunk driving. The UT administration's decision to denotify all the state highways except Madhya Marg and Himalaya Marg put the hotel owners in a fix.
For all the latest Chandigarh News, download Indian Express App