Extension of lal dora, regularisation of changes in CHB houses… parties take due note of people's agenda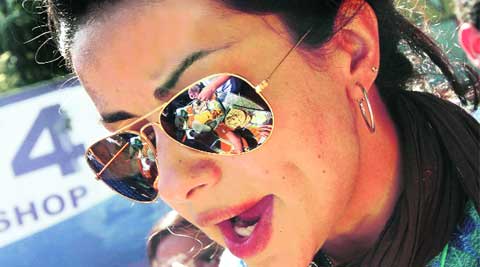 AAP candidate Gul Panag at Panjab University on Thursday. (Sumit Malhotra)
With the Lok Sabha elections around the corner, various organisations and associations have put forth their demands setting the agenda for political parties. From the problem of extension of lal dora to regularisation of changes in CHB houses and changing bylaws are some of the demands that all the political parties in the city are sitting up and taking note of.
Some of the issues are such that the organisations have been taking up for quite some time. The elections have given a chance for these to become the focus of attention once again, with the residents ensuring support for the parties that would endorse their demands.
Among the demands that are being raised is regularisation of need-based changes in the houses constructed by the Chandigarh Housing Board. In almost 90 per cent of the 50,000 units in CHB colonies, additional construction has been made by the occupants. Thousands of notices have been issued by the CHB. The residents have been demanding that the changes be regularised as these were required in order to cater to their needs.
Nirmal Dutt, president of CHB Residents' Federation, says, "We have been struggling and are disappointed with all the parties. None of them has been able to resolve our issues in all these years despite assurances. We invited all candidates for addressing the members of the association. Each one has assured us that issues would be resolved."
Another section that has vociferously been raising its demands is that of the traders and industrialists. One of the major concerns is the penalty at the rate of Rs 500 per sq feet per month that is being levied as misuse charges. Further, it is demanded that the MSME Act be implemented in the city. The traders are demanding a reduction in VAT on certain items to bring it on a par with the one existing in the neighbouring states.
The conversion of leasehold property into freehold property is another issue affecting the city. The issue has been hanging fire for several years. The need for change in the bylaws and better facilities is also being raised by the traders and industrialists.
President of Chandigarh Beopar Mandal Charanjeev Singh says, "We want that the policies in the city should be trader-friendly. There is a need to bring about changes in the system and have one that is more responsive. Everyone agrees that there is a need for reduction in the penalty being imposed. However, it is still not being reduced. There are issues that have been hanging fire for a while. These need to be resolved."
The villagers in the city are demanding an increase in the lal dora. Over the years, in most of the villages there is more construction outside the lal dora than inside. The villagers state that with their families growing, there was a need …continued »