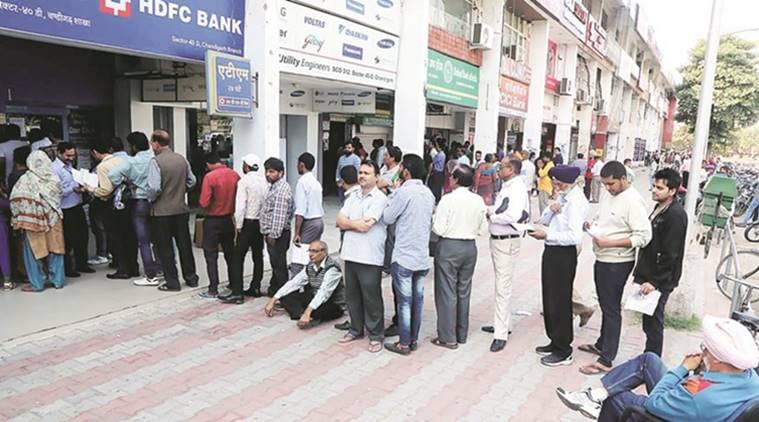 Student: 'Parents putting less money in our bank accounts now'
SHUB KARMAN DHALIWAL
STUDENTS LAMENT that the days of lavish and impulsive spending are behind them, with parents cutting down on the flow of cash.
"The first couple of weeks were tough. There was chaos at the university banks and ATM machines," says Priya Garg, a student of Chemistry Department.
When the decision was announced on November 8, there was a rush of Panjab University students to deposit examination fee. "The scene in the university hostels was unbelievable as everyone from the next day onwards was seen in a queue either at various ATMs, banks inside the university or outside in adjacent sectors," says Priya.
After the demonetisation, students have cut down on their expenditure. "Now the parents have also started putting less money in our bank accounts due to unavailability of cash," says Priya. "Earlier, we would spend freely without thinking much but now the first thing that comes to the mind is do we have change? If yes, how much would be sufficient for the coming days?"
New Rs 2,000 currency notes have also been of no help to students studying at Panjab University, as nobody has the change available with them. "Due to unavailability of currency notes, nobody is willing to give change for Rs 2,000 note. The mere thought of standing in a queue makes us save money and spend less," says Priya.
IT Professional: 'Got Rs 15,000 from father, spending it very carefully'
ON NOVEMBER 8 when Prime Minister Narendra Modi announced the demonetisation decision, Pinky Chopra, an IT professional, didn't expect that troubling times were ahead.
"Being an IT professional, life is very challenging and we hardly get much time. Soon after Rs 500 and 1,000 notes were rendered illegal, I started feeling the pinch. With less time available with IT guys, I had to send my father to get cash from the ATM as I don't have sufficient time to wait in a queue," she says.
Chopra claims she has stopped buying new things. "I have stopped doing shopping for myself. Recently, I went to market with my seven-year-old son and for the first time could not buy toys for him. It is not possible to use debit and credit cards everywhere," she says.
She adds, "After the demonetisation, I got Rs 15,000 from my father. Since that day, I have been spending it very carefully."
Chopra blames the government for poor implementation of the decision, which has caused inconvenience to the public. "I feel the step of demonetisation is good and the government needs to be appreciated for it. But the way it was implemented was not good. Such poor implementation can't be expected from the government, especially when they are taking such a big step. Planning is very important," she says.
Grocer: 'We have no other option but to give ration on credit'
HARI KRISHAN Mahajan who runs a small grocery store in the booths at Sector 23 market has been spending sleepless nights ever since the demonetisation of Rs 500 and Rs 1,000 notes was announced.
Reason: A decline in the sales and more people seeking items on credit. Mahajan says that he has given the ration worth Rs 60,000 to people on credit and he doesn't even know whether the money will come back.
"Every customer is coming with old notes. We have no other option but to give ration on credit. I don't even know whether I will get all my money back," says Mahajan. The past few days have been very difficult for Mahajan. "People are taking ration on credit but not giving cash. Whatever little amount I have been earning is not sufficient to replenish my stock," he adds.
There has been a reduction in the family expenditure as well. "I hardly have any sales. I have told my kids that there is going to be no pocket money for the coming months. My wife too has been managing with a meagre amount of money," he says. Mahajan is thinking of borrowing some money from one of his friends to get more stock for his shop.
"Salaries have to be paid to the workers at my shop. Now I have thought of telling them that once there is an ease in the cash flow, I would pay the salaries," he says. "The government should have given some time. It is an emergency-like situation for us," he says.
Industrial Worker: 'Used to earn Rs 22,000 but next month I'll get Rs 15,000'
LAST TWO weeks have been tough for Dheeraj Kumar, a 24-year-old industrial worker, after the Central government announced demonetisation of Rs 500 and Rs 1,000 notes. Kumar, the lone bread earner of his family in Azamgarh district of Uttar Pradesh, works in a screw manufacturing factory in Industrial Area Phase I at a daily wage of Rs 500.
Kumar could not send money to his family for sowing of wheat, which he has been saving for the past one year. "Every year I send money to my father for sowing of wheat. This year I had managed to save Rs 10,000, which I had kept at my house," he says.
As Kumar could not send money, his family was forced to take loan from a money lender at a high rate of interest. "They had no option but to take loan," he says.
To make matters worse, Kumar had to toil hard for three days to get his hard-earned money deposited in the bank. He could not go to work for three days, which cost him Rs 1,500. "I won't get paid for three days. For a person like me, Rs 1,500 is a big amount," he says. Demonetisation has led to a fall in demand and owner of the factory where Kumar is working has reduced the production hours from 12 hours to 8 hours daily to bring down the expenditure. By working overtime, Kumar was making an additional Rs 250 per day, taking his daily earning to Rs 750. However, since November 10, there have been no late shifts.
"Earlier, I was making around Rs 22,000 per month. But next month I will get only around Rs 15,000," Kumar says. Low income means that he will have to cut down on his expenses. "I have to send money to my family for their monthly expenditure. I don't know how I will manage," he says, hoping that things will get normal soon.
Housewife: 'Few shops accepted old notes, so situation was manageable'
NANCY UPPAL, a housewife, spent the night after the announcement of scrapping of Rs 500 and Rs 1,000 notes in calculating the old currency notes she had saved in the last few years.
"I was happy with the decision made by the government but I had saved some money at home. The next morning, I took out shaguns of my children Aarav, 4, and Aavya, 1. Also, I had three to four piggy banks in which I used to put the old currency sometimes. I collected the cash that was lying with me. It was around Rs 20,000," she says.
Then Nancy looked into all handbags. "I found a few Rs 100 notes, and I felt rich. I paid the milkman with it. On the second day, I got fuel filled in my four-wheeler with a few notes I found in my handbags," she says.
It was a huge relief for Nancy that she had not stored much cash at home. However, the next task seemed to be tougher: who will go and stand in long queues at the bank? "With two small kids and a husband who is usually travelling, I did not know how to go about it," she says.
"At the vegetable market a few shops accepted the old currency notes, so the situation was manageable. After a few days, I went and deposited the cash. Later, I withdrew money through cheque," she says.
Mason: 'Could not send home a penny, family running out of money'
THE DAYS after November 8 are proving to be hard for 36-year-old Chander Dev, a mason. The demonitisation has made him depend on his employer for daily meals as he does not have cash and also does not have time to stand in queues.
Chander came to the city around six years ago and started working as a mason. He used to go to his village in Bihar between December and January every year but this time he has no such plans.
"My father is not well, I used to send Rs 1,500 after every 10 days to my home. After November 8, I could not send a penny and the family is running out of money. Apart from father's treatment, my children's school fees are to be paid," says Chander.
Chander is currently working in Phase II, Mohali, in a showroom. In the last 15 days, he could not buy ration from the grocery shop as he did not have the new currency notes and the shopkeepers were not ready to accept the old notes.
"I could get food only for two days. Later, I had to sleep without eating anything. I asked my employer to arrange some food for us. He made some arrangements, this [demonitisation] has affected us to a large extent," says Chander.
He says that a mason charges between Rs 500 and Rs 650 per day and in most of the cases, the payment is made on a daily basis or weekly basis. They do not have bank accounts and the bank staff is not co-operating with them in changing the old currency notes. Chander claims that he cannot buy woollen clothes for himself due to unavailability of cash.
For all the latest Chandigarh News, download Indian Express App