AAP creates history in Punjab; BJP loses all important Amritsar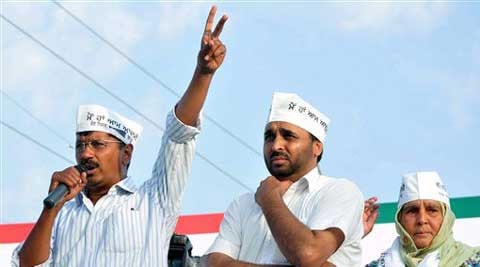 AAP's comedian candidate Bhagwant Mann polled over 5.3 lakh votes, winning by a margin of 2.1 lakh votes, a new record in the state. ( Source: PTI )
Registering a historic change in Punjab, it was the Arvind Kejriwal-led AAP that was laughing all the way to the ballot boxes, lapping up the anti-incumbency votes against SAD-BJP and the Congress.
Gathering an overall vote share of 24.5 per cent– unprecedented in Punjab for a third party– AAP won four seats, the only ones in the country out of the 13 on which it had fielded its candidates.
AAP's comedian candidate Bhagwant Mann polled over 5.3 lakh votes, winning by a margin of 2.1 lakh votes, a new record in the state. Its retired teacher candidate, Professor Sadhu Singh, won from Faridkot polling over 4.5 lakh votes — recording the second highest victory margin of 1.7 lakh votes. Former diplomat Harinder Singh Khalsa registered a surprise victory in Fatehgarh Sahib and Dr Dharamvir Gandhi, a philanthropist medico, defeated three-time MP Preneet Kaur, the maharani of Patiala.
While the Congress polled the highest number of votes in the state at 33 per cent, AAP cut into over seven per cent of the Congress vote share since the 2012 Assembly polls and another eight per cent of the SAD's 2012 votebank, which had stood at 34.7 per cent. The BJP's vote share in Punjab has increased from the 2012 Assembly polls by over one per cent.
Despite BJP's historic win nationally, the party — ruling in Punjab as SAD's ally — lost the all important seat of Amritsar. The holy city sent Arun Jaitley packing, granting a thumping victory to former Congress chief minister Captain Amarinder Singh, who won by a margin of over a lakh votes. The result is likely to put a major strain on the BJP-SAD alliance in the state with the BJP putting the entire blame on SAD for the loss.
Amarinder's victory, however, remained hollow with the rest of the party virtually wilting away in the state — coming down from eight to three seats with all its sitting MPs losing their seats.
The SAD-BJP allaince, though gained an additional seat this time — going up to six out of 13 — barely managed to retain its face on the prestigious seat of Bathinda where the Badal bahu Harismrat Kaur was fighting her husband Sukhbir Singh Badal's breakaway cousin Manpreet Singh Badal. Harsimrat remained on tenterhooks through the day with the winning margin never crossing 25,000 at any point in the day.
The Modi wave had no impact on Punjab with the SAD-BJP combine losing on all big city constituencies of Ludhiana, Jalandhar, Amritsar and Patiala — paying a stiff price for the imposition of property tax in municipal areas. Narendra Modi had held rallies in Ludhiana …continued »