State records surge in polling, turnout 65%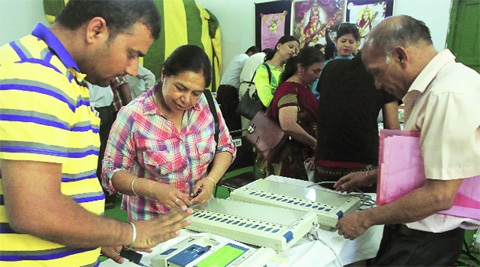 Bangalore city, normally a lagard in terms of polling percentages, recorded an average of 54 per cent - up from 46 per cent in 2009
DESPITE a seemingly cold response through much of the early part of the day, Karnataka recorded a surge in its polling percentages by the end of the day to record a tentative 65 per cent voting by its 4.62 crore electorate as elections for all 28 seats in the state concluded on Thursday.
The overall polling in Karnataka went up from 59 per cent in 2009 but was short of the high of 72 per cent recorded in the Assembly polls in May 2013.
Bangalore city, normally a lagard in terms of polling percentages, recorded an average of 54 per cent – up from 46 per cent in 2009 but less than the 57 per cent in the Assembly elections. In 27 of the 28 constituencies in the state, polling on Thursday was better than it was in 2009.
The Chief Electoral Officer however said Thursday's polling was not the highest, which was recorded in 1989.
"I would not like to say the voting percentage has come down from last year. Normally in the Lok Sabha polls, the voting percentage is lower by five to six percent compared to the Assembly elections. The figure we have given is not the final one but an extrapolation from trends seen till 6 pm in the polling across the state,'' Anil Kumar Jha said.
The three Bangalore city constituencies – Bangalore South and Bangalore Central with 55 percent voting and Bangalore North with 52 per cent voting – witnessed an increase as a large number of middle and upper-middle class voters turned out to cast their ballots by shedding their normal apathy that resulted in an average of 45 per cent voting in the 2009 polls.
The increased voting percentage in Bangalore is viewed as a result of the entry of new candidates like Nandan Nilekani for the Congress, AAP's V Balakrishnan and a desire among a vast section of the middle class in the city to vote for Narendra Modi over and above the BJP candidates.
Like in the 2009 polls, the Dakshina Kannada constituency in the coastal part of Karnataka witnessed the highest percentage of voting with 75 per cent of the 15 lakh electorate turning out to vote.
The Chikkaballapur constituency bordering Bangalore, normally a high turnout region, continued with that trend with 73 per cent votes being cast in a field where Union minister Veerappa Moily is pitted against former chief minister H D Kumaraswamy and former BJP minister B N Bachegowda. Last year, the region had seen a record 83 per cent polling in the Assembly elections.
Hassan, where former prime minister H D Devegowda is contesting, also witnessed high polling at 72 percent.
Other constituencies with …continued »