Siddaramaiah inspects projects after skipping swearing-in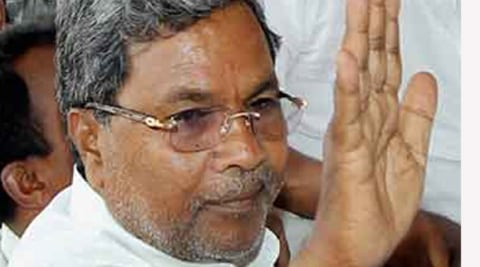 Karnataka Chief Minister Siddaramaiah.
Karnataka Chief Minister Siddaramaiah, who chose to skip the swearing-in ceremony of BJP Prime Minister Narendra Modi to inspect public projects in Bangalore on Monday, claimed that the Congress government in the state would spruce up Bangalore city within 18 months to meet the expectations of residents.
The annual budget of the Bruhat Bengaluru Mahanagar Palike (BBMP), which has been awaiting government approval for the past few months, would receive approval in two days, he said.
Siddaramaiah on Monday, as part of his city project works tour, inaugurated the Rs 30.14 crore Prof CNR Rao circle underpass connecting Malleswaram and Mekhri Circle to Yeshwanthpur, which has been long delayed and nearly four years in the making.
The chief minister, who had taken engineers involved with the construction of the underpass to task soon after coming to power last year, said the project delay was unfortunate and promised that he will ensure delays do not happen in projects aimed at public good.
"As per the request of the city mayor, we have already granted Rs 1,000 crore for the city's overall development. Besides, Rs 1,385 crore sanctioned under the Jawaharlal Nehru National Urban Renewal Mission (JNNURM) will be utilized for development of storm water-drains at Yelahanka, Mahadevapura and Dasarahalli, along with steel over-bridges in various parts of the city,'' he said.
Siddaramaiah also inspected the Rs 78 crore first package of Tender SURE (Specifications for Urban Road Execution) work progressing at the Cunningham Road and Vittal Mallya road. He said the work order had been issued for the Rs 61 crore second package covering the Modi Hospital Road, K G Road, Siddhaiah Road, Nrupathunga Road and Jayanagar 11th main.
The CM also said BBMP would develop signal-free corridors on the Dr Raj Kumar Road and at the Old Airport Road at a cost of Rs 29.6 crore and Rs 109 crore respectively.
Siddaramiah said asphalting work had begun at 93 of the 230 main roads in the city stretching over 395 km. The project is estimated to cost Rs 560 crore and apart from road development will also focus on road beautification.
Addressing the issue of closing the garbage landfills at Mandur where residents have set a June 1 deadline for shutdown, the chief minister said he had called for a meeting of residents along with the local MLA Arvind Limbavali and expressed confidence that with the setting up of three new waste processing units in Doddaballapur (mixed-waste) , Kannahalli (hotel waste) and Satharam (compost and power generation), there will be drastic reduction in the dependence on landfills. The Rs 150 crore project to create the waste processing units cannot be implemented at once and would have to be done in a phased manner, he added.
On his decision to stay away from the swearing-in-ceremony of Prime Minister Narendra Modi, Siddaramiah said he had sent his best wishes to Modi. "Congress party leaders like Sonia Gandhi and Manmohan Singh are attending the event so there is Congress representation at the event. Irrespective of party differences, Centre-state relations will remain cordial," he said.