I want to stop poverty, they want to stop me: Modi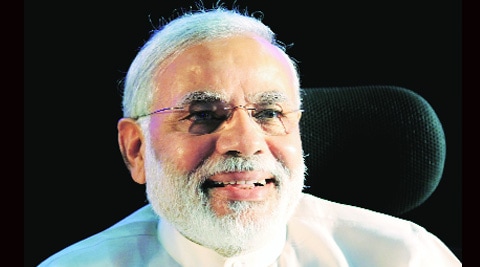 At Belgaum rally, Modi Keeps spotlight on himself, barely refers to Suresh Angadi.
The BJP's prime ministerial candidate Narendra Modi made no bones about his central nature in the campaign to the 2014 Lok Sabha elections accusing the Congress of worrying about him rather than the problems of the country. He also made a veiled reference to efforts from multiple quarters to keep him at bay politically.
Addressing one of his two rallies in Karnataka on Sunday, on the eve of the Ugadi festival in the state, Modi put himself in the spotlight barely making a reference to the BJP's two term MP from Belgaum, Suresh Angadi, whose campaign he came to bolster.
"Day and night I think of how to solve the problems in the country, how to counter poverty, how to control price rise, how to meet the aspirations of youth and women. I seek solutions for the country and they are trying to find a solution to me,'' Modi said.
"I say stop price rise, they say stop Modi. I say stop poverty, they say stop Modi. Their aim is to stop me, my aim is to take the country forward,'' the Gujarat Chief Minister said.
In a veiled reference to opposition to his role as the prime ministerial candidate of the BJP from both within the BJP and from other political parties, Modi said the entire political constellation was scared of the verdict the people of the country will deliver on May 16.
"For the first time they have all united to keep Modi away from Delhi. They don't want the CM of a small state in the country to be in Delhi. They are scared about where they will be when the results are out on May 16,'' Modi said.
The Gujarat CM announced that he proposes to bring back black money stashed away in foreign economies by Indian politicians and that he would use the money to reward citizens who have dutifully paid their taxes over the years.
"The honest must be rewarded, the dishonest must pay up,'' he said.
Attacking Congress vice president Rahul Gandhi for claiming to have a roadmap for the infrastructure needs of the country, Modi said that he was not the kind of man to have a map for infrastructure only in his mind. "If voted to power I will do my best to improve infrastructure. No decisions will be taken with bad intent. I come as a sevak I will work as a sevak,'' he said.
The Gujarat CM said that his campaign was building into a tsunami as predicted by him. "Those who have looted the country will be finished in the tsunami. This time people will pick them out and finish them,'' Modi roared.
The Gujarat CM also attacked the Congress and its vice president Rahul Gandhi, whom he called "Shehzada'', for reportedly calling Gujarat's development credentials a bubble. He accused …continued »