Congress decides to warn 'slack' ministers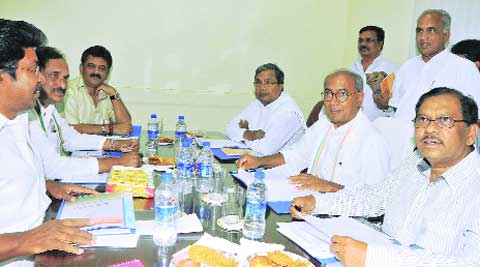 K Siddaramaiah, Digvijaya Singh, G Parmeshwar, K J George and others at the KPCC meeting on Wednesday.
Ahead of the declaration of the results of the Lok Sabha polls a co-ordination committee — meant for bringing greater cohesion between the ruling Congress government in Karnataka and the party — held a meeting to evaluate the functioning of the government and the party over the past year and through the general elections.
Central observer Digvijaya Singh who headed the co-ordination committee meeting evaluated the performance of the government over the past year and while appreciating the performance under Chief Minister Siddaramaiah also called for the pulling up of ministers who are going slack on the job.
"A report was provided on the performance of Congress candidates in the Lok Sabha polls. A report was given on implementation of government programs and the agenda of the government and the party over the next six months was discussed at the meeting,'' Congress sources privy to the meeting said. No issues regarding possible change of guard in the party or government were discussed.
"The government and party has been told to ensure that communication regarding all programs and schemes for the people reach the ground level, that the media is managed effectively,'' sources said. Speaking after the co-ordination meeting Digvijaya Singh said that he had "reviewed the political situation in Karnataka and complimented the Chief Minister for work done by his government''.
Singh claimed that despite all exit polls predicting big losses for the Congress in the Lok Sabha polls the party itself cannot be written off.
"The Congress party has seen a lot of ups and downs but it has never deviated from its ideology of socialism and secularism,'' Singh said. "God's sake don't write us off,'' he said. The Congress observer for Karnataka claimed that exit polls cannot summarize the views of a 100 crore people. The surveys have never been right, he claimed.
"In a democracy a win is not a win and a loss is not a loss. If we get an opportunity to govern we will. You cannot allow anyone run amok on issues of secularism,'' he said. Singh said the "BJP always begins with talking of development but in the end goes back to communal politics''.
This was evident through the use of pictures of gods in the backdrop of campaign meetings for the BJP, he said. The Congress leader said that an estimated amount of Rs 5,000 crores had been spent on the campaign of the BJP's prime minister candidate Narendra Modi. "I have not seen this kind of support. Obviously the corporates have supported BJP. He talks about bringing back black money. He also says that good days are ahead. Even Hitler said something like that,'' Singh said.
He thanked Prime Minister Manmohan Singh for having served the country "so admirably''. The Congress party has the greatest …continued »