Volunteers make a beeline to join CAG, more than a cog in Modi's PR machinery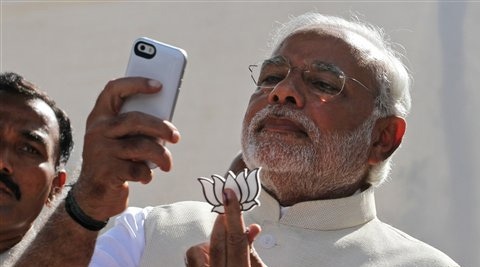 later displayed the symbol several times while addressing the media at a press conference near the polling booth. (AP)
At the first "Chai Pe Charcha" session in February, a man moved about the crowd, making furtive enquires, at a tea stall in Ahmedabad where BJP's PM candidate Narendra Modi took people's questions. He introduced himself as Prashant Kishore to a reporter in the crowd.
The 35-year-old public health specialist, statistics whiz and a former UN mission chief in Africa has been associated with Modi and his office since December 2011, executing events that put the CM on the national scene. Considered the mentor of the Citizens for Accountable Governance (CAG), an "NGO" that powers initiatives that push Modi into a cool, tech-savvy fashionable "youth icon" mould, Kishore remains elusive.
The future of CAG, which began as an "apolitical" group, floated by a small bunch of young professionals, growing to 60 core members with over a lakh volunteers, will depend on the General Elections' results. Interestingly, the political footnote for CAG is its presence in 29 Indian cities, like Lucknow, Kolkata, Varanasi, Bangalore, Bhubaneswar, Hyderabad, Delhi, Lucknow and Patna, where the BJP was not so strong. Barring Kolkata, CAG has its left footprints in many Indian cities.
"Many may get back to their old jobs, but some may get embedded with the MPs with whom they have worked during the elections. This is subject to the MPs securing important portfolios in the event of a Modi-led government. The BJP, which is already swamped by people wanting to wrest power for themselves, may not offer any work to these youngsters," says a source from this highly secretive organisation.
The group burst on the scene in February 2013 as the backroom boys of Modi's address at the annual conclave of Delhi's Shri Ram College of Commerce (SRCC), followed by the "Young Indian Leader's Conclave" in June in Gandhinagar, featuring Modi and former President A P J Abdul Kalam.
A CAG spokesperson, who is an Indian School of Business (ISB) alumnus, with a banking stint in New Zealand and one of CAG's nine board members, told this paper on conditions of anonymity, "The Indian CAG was formed by a group of professionals who quit their jobs in McKinsey and Company and came together to create a forum for bringing together politicians on a common platform to debate on national issues.
CAG organised a few events, like Manthan that featured a spectrum of leaders — Chandrababu Naidu, AAP's Yogendra Yadav and Modi. We (CAG) saw Modi's efficiency and decided to support him and add value to his campaign. We have a very flat organisational structure and Prashant Kishore is our mentor. He assists CAG's Board of Directors in the decision-making."
Modi's anointment as BJP's PM candidate in September 2013 saw CAG taking charge of events like the "Run for Unity" for Modi's pet …continued »