To woo women voters, Amreli district authorities run door-to-door campaign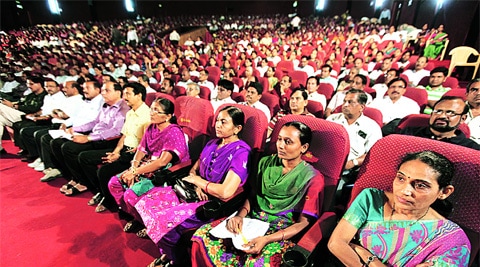 Booth-level officers at Vadodara District Election Officer's seminar on Tuesday. (Photo: Bhupendra Rana)
Wooing female voters seems to be a concern for election commission officials in Amreli, a parliamentary constituency that shares its borders with the famous Gir sanctuary. It recorded the "lowest (one-third) turnout of female electorates" during the 2009 Lok Sabha elections. During the past few weeks, the district administration has been busy in running door-to-door campaigns, trying to cajole women voters to come out and vote.
Amreli has been battling poor sex ratio and currently has almost 7 lakh female voters. In the 2009 Lok Sabha elections, Amreli had 6.37 lakh female voters. However, only 33.5 per cent of them voted. This is not only lower than the state average for female voter turnout (43.3 percent), but is way behind a parliamentary constituency like Bardoli (south Gujarat) which recorded the highest turnout of women voters at 55.5 per cent in 2009.
"Our main focus is on the 14 villages in the district where the turnout of female voters has been less than 10 per cent. These villages fall in Dhari (4 villages), Lathi (1), Savarkundla (6) and Rajula (3) Assembly constituencies," says Bacchusinh V Kotad, an election commission official and the deputy District Development Officer (DDO), who is playing an active role in bringing back female voters to the polling booths.
"The voting percentages for the Lok Sabha elections are always on a low side. However, we are doing out best to increase the turnout, especially of female voters. We are taking the help of women connected with self-help groups and those associated with the Integrated Child Development Services (ICDS) to reach out to women in the district," Kotad said. He added that the help of some leaders of religious sects like Swaminarayan is also being sought to address the problem. "We are also organising special awareness meetings in each taluka. We have already held 14 such meetings so far," said Kotad, who spearheaded five meetings. The district administration has also used banners and posters to take the message to individual homes and voters.
In the recent past, voting percentages of women voters has not been so impressive in Amreli, which has seen the lowest decadal growth of female population in Gujarat (7.31 percent) and a sliding sex ratio (964 women to every 1,000 men) as per the 2011 census.
If the voting percentages of the 2012 Assembly elections in Gujarat are taken in to account, women turnout in Amreli was as high as 63 per cent. However, when compared to women turnout in other districts, Amreli not only finished at the bottom of the table, but was also below the average female voter turnout of 70 per cent in the state.
When contacted, district collector Ajay Kumar skirted the question, saying that he cannot talk over the phone on the issue. However, sitting BJP Member of Parliament from …continued »