Pratibha Advani hits campaign trail in Ahmedabad, Gandhinagar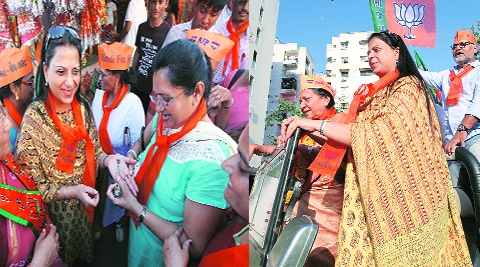 BJP party workers apply lotus-shaped mehndi on the palm of L K Advani's daughter Pratibha Advani, as she canvasses for her father at Gandhinagar constituency on Friday. (IE Photo: Javed raja)
Around 10 pm on Thursday, Ahmedabad mayor Meenaxi Patel was seen campaigning in the posh localities of west Ahmedabad. In Satellite area, which is one of the city's poshest areas and comes under Gandhinagar constituency, she is heard declaring: "Advaniji (L K Advani) is our dear leader. He is our candidate", and adds in the same breath, "This election is unique. Our Narendrabhai is the prime ministerial candidate. While Narendrabhai is from Ahmedabad, it becomes our collective responsibility to win from the Gandhinagar constituency with a huge margin."
On Friday afternoon, Advani's daughter Pratibha and state minister for revenue and urban development Anandi Patel launched the patriarch's campaign through a bike rally that passed through residential areas of west Ahmedabad.
Even as Advani is expected to arrive on April 5, the BJP is preparing ground for his campaign because it wants to win all 26 seats. Given that Advani reluctantly accepted to contest from here for the fifth time, the party is taking no chance.
In the campaign led by local leaders, therefore, Advani's victory is not as much a target as is winning of Gandhinagar for the sake of the Modi math. Even the truck that led the bike rally from Manav Mandir in Ghatlodia Assembly constituency in Gandhiagar. had a huge Modi poster that read, "Aavo Aapna Narendrabhai ne vadapradhan banaviye. Ab ki baar Modi sarkar' (Let's come together to make our Narendrabhai Prime Minister. This time, it is going to be a Modi government). Almost all workers wore saffron caps with "Modi For PM" slogans even as Pratibha and Anandi Patel led the rally in an open jeep waving the victory sign.
In the constituency represented by Advani since 1991, the mayor's over 10-minute speech had only one mention of Advani. Then on it was all about Modi, the Modi government and `future PM Modi'.
Justifying her pitch, Patel says, "Modiji has a charisma and popularity. He is our PM candidate. And, people of Gujarat know his work and for the same reason people of Gujarat pin their hopes on him".
The bike rally started from near Anandi Patel's home. Patel, a close aide of Modi and number two in his government, is also guardian of Gandhinagar seat. Though the campaign is about Lok Sabha election, Patel's supporters put up her pictures in enthusiasm. Pravin Patel, senior BJP leader from Ahmedabad and in-charge of Gandhinagar constituency, says, "We are used to campaigning without candidates. We have done it for Advani and Modi." But the …continued »