Not in the race to be CM: Saurabh Patel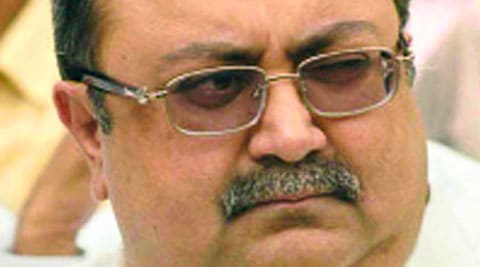 Saurabh Patel's role in putting the state on the development map downplays the prospect of becoming the next CM.
State Minister for industry and power, Saurabh Patel, one of the contenders for Chief Minister, said on Thursday that he was not in the race to be Narendra Modi's successor. Busy overseeing arrangements for the party's imminent "victory rally" on Friday, which will include a 15-minute public address by Modi in the city, Patel shrugs off any chance of him taking up the top job in the state. He was speaking to The Indian Express in the midst of preparations for probably his biggest political event.
On the roadside across fortified polytechnic college, where the poll ballots have been safely tucked away, Patel  gives out precise instructions to the event organiser for the Friday celebrations, mincing no words about the perfection he expects. He instructs that an LED screen must be set up outside the counting station so that people can get the updates for the much-awaited poll results.
After a quick lunch at the GEB Guest House, Patel attends another meeting with VMC officials to discuss the requirements of Modi's spontaneous victory address on Friday. Clearly, the man who managed the Vadodara election campaign in Modi's absence is not yet done.
Patel, who has been seen as one of Modi's successors, given his suave mannerism, acceptance within the party and his role in putting the state on the development map, downplays the prospect of becoming the next CM.
Asked if he would accept the job if offered, he  laughs, saying, "I am a very contended man who has keenly completed all responsibilities handed over to me. Whatever I have been asked to do, I have done. But I am not in that race (for the CM). I am not even looking for it."
Not just that, expecting bypolls soon, political whispers in the city are also touting Patel to be the next Vadodara MP, should Modi vacate the seat and choose Varanasi post LS polls results.
But Patel says it is important to think "positive". Speaking about preparations for the Vadodara bypolls, Patel says, "It is too early to say that there will be bypolls in Vadodara because Modiji has a good 15-days time to decide what he wants to do between Vadodara and Varanasi. The issue will be discussed in the party's Parliamentary board meeting on May 17, where senior leaders will contemplate Modiji's next move over his two seats. As all Vadodara people would want it, Modiji may also choose Vadodara."
Within the party, leaders say that the picture for the bypolls is clear. Ever since Patel was handed over the charge of Modi's campaign in the constituency, while Modi concentrated on countrywide rallies, other contenders who had staked claim to the Lok Sabha ticket have been left behind in the race for bypolls.
Patel …continued »